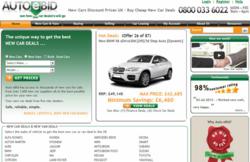 Award winning AutoeBid.com to be sold to the highest bidder.
(PRWEB UK) 25 March 2013
With awards from The Department of Trade and Industry and recommendations from Which?, The Sunday Times and Autocar have all helped AutoeBid secure a database of over 50,000 registered users who have placed over £190 million of new car orders. The website currently attracts more than 850,000 visitors annually looking for the best new car deals with an established customer base and repeat orders.
A large supplier database in excess of 1,600 UK car dealers – around 30% of the national supplier market – means that competition to offer buyers the best new car deals is severe. The process is also 100% automated, with buyers placing orders online and suppliers then fulfilling them.
With Frost & Sullivan predicting online car sales to soar by 2020, and even an increase of 5.3% in UK new car registrations in 2012, AutoeBid's potential for growth is enormous. That the company does not currently service the UK used car industry, nor offer vehicle finance or capitalise on customers wishing to sell their existing cars, present strong avenues for increased revenue.
In addition to a commerce platform, the website is a destination website with news, new car deals, reviews and a blog, for which all content is owned by the company.
For further details contact Turner Butler on 0800 028 9999 or email info(at)turnerbutler(dot)co(dot)uk