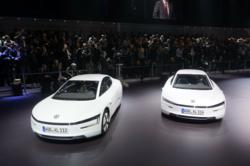 2013 to bring the most new cars with emissions under 100g CO2
(PRWEB UK) 11 March 2013
With Audi, Volkswagen, Skoda, SEAT and Porsche amongst others in its collective, Volkswagen Group already offer 245 new car models that emit less than 120g/km CO2 and 36 models that emit less than 100g/km CO2. They are also the first manufacturer to commit to the 95g/km CO2 target.
Speaking on the eve of this year's Geneva Motor Show, Chairman of the Board, Dr. Martin Winkerkorn, said that this is a "Herculean task calling for the best efforts of all our 40,000 developers." He went on to say that the technologies used in the new XL1 1-litre car would find their way into series vehicles, in particular the plug-in hybrid technology that allows the XL1 to cover 30 miles on electricity alone. With transparency in mind, Volkswagen group is stressing it "is not speculating on any loopholes to achieve its target," and is already on track to reach its target of average fleet emissions of less than 120g/km CO2 by 2015.
Earlier last week, Volkswagen Group unveiled something of an environmental product offensive in Geneva, with plug-in hybrid and natural gas versions of the Audi A3, as well as the groundbreaking XL1. Emitting just 21g/km CO2 and offering real-world fuel economy well in excess of 100mpg, the carbon-fibre XL1 will be made in limited numbers initially but Volkswagen may increase production volumes in the future. In the immediate future, a Bluemotion version of Volkswagen's award-winning Golf VII will average over 88mpg and emit just 85g/km of carbon dioxide when it goes on sale in the summer.
Amin Saleem CEO of AutoeBid stated, "AutoeBid have highlighted car manufacturers green credentials for over five years offering clients carbon offsets before any other UK player as well as creating Auto Industry Sustainability, a specialist blog focused on building and encouraging sustainability within the industry. We were also the fist website in the UK to highlight new car emission labels and are extremely pleased more manufacturers are finally starting to make strides towards building a more sustainable industry."
As always, AutoeBid will bring buyers the best new car deals on the most frugal cars from a network of over 1,600 UK dealers.