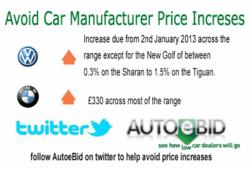 Follow AutoeBid via twitter to avoid paying more than you need to
(PRWEB UK) 17 December 2012
Beginning 2 January 2013, Volkswagen is set to increase the price on several of its new car models except the new Golf of between 0.3% on the Sharan to 1.5% on the Tiguan, according to new research. The study also predicts BMW to set a price increase of £330 across most of its new car range starting January.
New car manufacturers tend to increase their new car prices without warning consumers of those price increases in advance. With the exception of Mercedes-Benz, most manufacturers will price protect an order if it is placed before any price increase is implemented.
Commenting on the research, AutoeBid.com Managing Director Amin Saleem said: "Finding out when a price increase is due is easier said then done. In compiling this research, we contacted a number of manufacturers including Skoda UK today and were advised they were unable to inform clients as to any price increases until they had been implemented".
Naturally if an order is not placed before an increase, clients will unnecessarily have to pay the increased price. However they can avoid the penalty by signing up to follow AutoeBid's twitter account, which regularly publishes price increase before they are announced.
Car manufacturers tend to increase prices at the start of the second and last quarter of each year. You can follow AutoeBid via twitter to avoid paying more than you need to https://twitter.com/autoebid