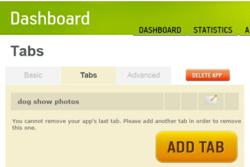 I have just created an ebook adding links to 24 URLs within my website
Alexandria, VA (PRWEB) March 14, 2013
AppsGeyser has taken their free app making tool platform one step further today, by announcing the arrival of increased tabs for apps made with Appsgeyser's tools. Creating Android apps from alternative web resources has now become easier by allowing app makers to create up to fifty tabs on one app.
Tabs are used to enable the user to navigate within the app between different content sources with ease, thus improving the user experience. Until recent weeks, this popular feature that was initially introduced in July 2011 only enabled five tabs to be included in one app. The limitation meant that app makers were not able to incorporate more than 5 URLs within one app and were encouraged to enable external roaming, this meant the app users would often leave the app during use to search external content on their browsers.
When asked about this new feature, AppsGeyser Android app maker, Jenny Brown, told us: "I have just created an ebook adding links to 24 URLs within my website, I have disabled browsing to ensure the user only has access to the webpages I want them to read. Fantastic"
AppsGeyser Co-founder Vasily Salomatov, added, "The tab feature is used within 60% of all apps created with AppsGesyer app making tools, but until now it was limited. The decision to increase the number of tabs per app came from the requests of our app tool users to create more complex informative apps."
About AppsGeyser
AppsGeyser, launched in February 2011, is a fast growing Android app creation platform. AppsGeyser enables users to create apps for Android devices from any web content in under five minutes. AppsGeyser has seen more than 351,000 apps created on its platform. There have been more than 219 million downloads of its apps.