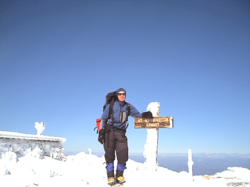 Mt. Washington Valley, NH (PRWEB) September 26, 2012
Synnott Mountain Guides, one of the country's most well-respected climbing and guiding services, has expanded its winter climbing courses to include One Day Mt. Washington Winter Ascents. Mt. Washington is one of the most coveted winter mountaineering objectives for aspiring mountaineers with greater objectives in the Alaska and Himalaya Ranges. Known for its extreme cold and winds, Mt. Washington offers both an incredible challenge and the opportunity for climbers with objectives such as Denali in Alaska and other Seven Summits peaks the chance to hone their skills in a harsh winter environment. Until now, winter climbing of Mt. Washington has been part of Synnott Mountain Guides Intro to Mountaineering course, a 3 day winter climbing program for beginning mountaineers.
The Mt. Washington One Day Winter Ascent climbing course is ideal for fit climbers with previous crampon and ice axe skills. Climbing Mt. Washington in one day in winter is often a supreme challenge that involves 60MPH or greater winds and sub-zero temperatures. For aspiring mountaineers who have climbed Mt. Rainier, the One Day Mt. Washington Winter Ascent provides the perfect step between Rainier and Denali in Alaska, the highest peak in North America, and one of the Seven Summits, an ultimate goal for modern mountaineers consisting of the tallest peak of each continent.
Synnott Mountain Guides is owned and operated by professional climber Mark. Synnott. Mark has taken on adventure in places like Patagonia , Pakistan , Nepal , India, China, Tibet, the Alaska Range, the Amazon, West Africa and Pitcairn Island in the South Pacific. When not in the mountains, Mark works with The North Face research, design and development teams and he lectures frequently on his life of adventure. He's also a successful freelance photojournalist and a senior contributing editor at Climbing Magazine. His articles and photos have appeared in many publications in the U.S. and abroad, including National Geographic Adventure, Men's Journal, Outside, Skiing and New York Magazine. Mark Synnott is also the author of Baffin Island – Climbing, Trekking & Skiing, a Baffin Island guidebook illustrated with stunning photos and detailed maps. In the last several years, Mark has been on climbing expeditions to Borneo, Chad and Newfoundland, all three of which also included climbing sensation Alex Honnold and fellow North Face climbing team member, whom Mark has had the pleasure of mentoring in regards to big wall and expedition climbing More information about Mark's climbing expeditions and Synnott Mountain Guides can be found at http://www.newhampshireclimbing.com.