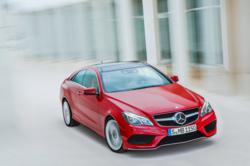 New Mercedes E-Class
Stevenage, Hertfordshire, London (PRWEB UK) 4 March 2013
The new E-Class has built upon the successful used Mercedes E-Class and has a new, stunning look and benefits from technologically advanced engines as well as an assistance system. The luxury car is designed to hold the leading position in the competitive line of luxury vehicles.
A new E-Class lease can demonstrate how easily identifiable the car is. There's a new front-end design that adds a fresh look while still maintaining some of the classic features. The traditional, partial LED headlamps have been upgraded to a single unit and can also be upgraded to a full LED specification. There's a new bumper and bonnet and a sportier radiator grille featuring the central star design. The rear end also features a new bumper as well as LED tail lights.
Impressive and extensive changes beneath the exterior of the Mercedes E-Class are prevalent as well There's a high-quality interior that has only been slightly revised, though it's hard to dismiss the new multifunction steering wheel and instrument cluster. There is also the ability to choose from four different suspensions, 11 optimised assistance systems for the driver and a four-cylinder petrol engine packed with new technology.
The engine is cutting edge, featuring the first use of a lean burn process in the exhaust-gas turbocharged engine and the E 200 and E 250 Saloon models feature new four-cylinder BLUEDIRECT engines that take petrol. The combined miles per gallon is an impressive 48.7. The models also feature an ECO start/stop technology. Drivers can also choose a Hybrid Mercedes E300 that has an electric motor and a diesel engine. This hybrid has a 69 mpg rating combined and emits low carbon emissions.
The Mercedes E-Class has been successful at showcasing comfort and safety. Mercedes-Benz has been marketing it as the "Intelligent Drive" due to these factors. The E-Class is also known for debuting many of the advanced systems that will be seen in the new S-Class. There are a lot of sensors as well as a multipurpose stereo camera with two "eyes." The camera is then able to create a three-dimensional view in the front of the car, around 50 metres. This view will be relayed to the computer system to show what it detects to promote the many safety enhancing systems.
Such advanced systems include the Brake Assist, BAS PLUS with Junction assist, which can identify pedestrians and crossing traffic as well as braking power that's equal to the pressure applied by the driver. There are other standard systems including Collision Prevention Assist to reduce rear-end collision risk as well as Attention Assist to monitor driver awareness and provide a notice when they need to take a break from driving.
While it's possible to buy a used Mercedes it is also possible to order a new E-Class lease hire at L & L.
END
Author: David Newman from Mercedes Stevenage
About Mercedes-Benz Hertfordshire - L & L Automotive
L&L Automotive is the driving force behind a dynamic retail network aimed at enhancing sales and after sales services for the region's existing and prospective Mercedes-Benz, AMG and smart customers.
Encompassing retail outlets in Bishop's Stortford, Hertford and Stevenage, the group is operated by L&L Automotive – a company boasting a lengthy and successful history.
L&L's Mercedes-Benz businesses moved into Hertfordshire in July 2002, when it was selected as one of Daimler UK's key business partners in establishing a revitalised national retail structure.
L&L Automotive. is a company registered in England and Wales with company number 4415393
VAT No. 794 6047 92
Mercedes-Benz of Stevenage : +44(0)1438 737800
Mercedes-Benz of Bishops Stortford : +44(0)1279 719333
Mercedes-Benz of Hertford : +44(0)1992 514444