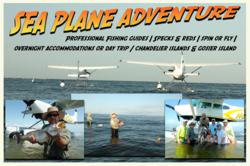 We are avid fishermen and have traveled around the U. S. and into Canada, but we agree that we had more fun at the Cajun Vista Inn fishing with Bourgeois Charters than any other trip.
New Orleans, Louisiana (PRWEB) November 11, 2011
Just 30 minutes outside of downtown New Orleans is the Gulf Coast's newest and most unique fishing adventure. Bourgeois Fishing Charters has expanded its charter services by offering the only seaplane adventure fishing package of its kind on the Gulf Coast where fishermen embark on a seaplane for a ride to the fishing grounds of specks and reds in the Chandeleur and Gosier Islands.
"I have been fishing for as long as I can remember, and I have wanted to fly since I was 5-years-old," Captain Theophile Bourgeois of Bourgeois Fishing Charters said. "After purchasing my first seaplane, I realized I had a rare opportunity to offer the most unique fishing adventure available on the Gulf Coast. Seeing the excitement of someone's first time taking off and landing on the water, combined with a day of incredible fishing, is priceless."
Seaplane adventure fishing also offers tourists a chance to see the incredible beauty of Louisiana's Gulf Coast, and to observe from the air an area no longer contaminated by the Gulf of Mexico oil spill. To erase the stereotype of tainted shrimp, crab and fish, Louisiana officials have launched a new website http://www.gulfsource.org that contains test results they say prove to restaurants and consumers that the state's seafood is safe to eat.
For Captain Theophile Bourgeois and the many Louisiana private and commercial fishermen, this is welcome news. "I know these waters. I was fishing them before the spill, I helped clean up after the spill and I've been fishing them ever since. I am able to see from the sky and in my boats, and I have no worries. The fishing has been great and the seafood is delicious."
Whether an old pro or a newcomer to the sport of fishing, Bourgeois Fishing Charters has the perfect fishing packages available. From the point of arrival, everything is taken care of, from accommodations in the Cajun Vista, a southern plantation-style inn, or the Cajun Chalet, ideal for business groups, to meals, gear, fuel and ice, the only thing left to do is catch fish. Once you do that, they will clean them for you, as well. It is the perfect corporate outing, family adventure or romantic getaway.
Fishing in Louisiana is a year-round sport. Though summer and spring are the busiest times of year, Bourgeois can be ready to go in as little as two hours. "I have two seaplanes, with access to five and several boats," Bourgeois said. "I'm like the Forest Gump of fishing we can fish saltwater or freshwater, by air or by sea. We spin fish, fly fish, bow fish and crab. There is even a package that combines fishing and duck hunting. It is the ultimate sportsman's or sportswoman's experience." For a list of all of the unique fishing adventures offered through Bourgeois Fishing Charters go to http://www.NewOrleansFishing.com.
###