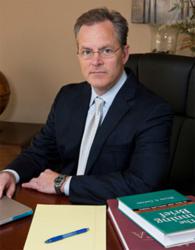 [U]nfortunately, in our work with those injured in large truck accidents and other motor vehicle accidents, we too often see that a wreck involves at least one driver who has violated the law.
Mandeville, LA (PRWEB) March 08, 2012
New Orleans accident lawyer C. Arlen Braud II said today that a recent fatal collision that killed an 86-year-old Lacombe woman illustrates how danger arises when Louisiana drivers fail to follow traffic laws.
The woman died Feb. 22 when her sedan struck a trailer positioned across the road in a curve on U.S. 190, according to the New Orleans Times-Picayune. The newspaper reported that the truck driver was allegedly trying to turn his transfer truck around when the woman's car struck the trailer. She was pronounced dead at the scene.
Officers charged the 18-wheeler driver with negligent homicide and prohibited turning in a curve. He was not injured in the wreck.
Braud pointed out that Louisiana law prohibits drivers from turning in a curve or upon the crest of a hill where the vehicle is not visible to other motorists approaching from either direction within 500 feet.
"Without making any comments on this particular accident, we can say that, unfortunately, in our work with those injured in large truck accidents and other motor vehicle accidents, we too often see that a wreck involves at least one driver who has violated the law," said Braud of Braud & Gallagher.
The law firm's New Orleans personal injury attorneys represent accident victims and their families across Louisiana in personal injury and wrongful death lawsuits.
Braud explained that in fatal Louisiana tractor-trailer accidents, surviving family members may be entitled to money damages to cover their costs and compensate for their pain and suffering.
"In addition to having to bury a loved one, which is often an expense not adequately covered by insurance, those who lose a family member in a car or truck wreck often lose their family's breadwinner in addition to their loss of companionship," Braud said.
Wrongful death and personal injury lawsuits in car and truck accidents are based on the at-fault driver's negligence or recklessness. This conduct could include a violation of a traffic law, the New Orleans motor vehicle accident attorney said.
Truck accident lawyers like those at Braud & Gallagher proceed with lawsuits after conducting independent investigations to determine how an accident occurred, Braud said.
The firm also investigates whether there was a driver at fault and to what extent that driver should be held liable for the other driver's monetary and personal losses.
"We do more than review police reports," Braud said. "If we proceed with a lawsuit in a car, truck or motorcycle accident, it's only after a thorough investigation that has shown us not only that someone is liable but how much of a payment the accident victim or the surviving family deserves to receive," Braud said.
"We believe that we do important work for deserving accident victims," Braud continued. "That's why we encourage anyone who has been seriously injured in a car or truck accident to contact an experienced accident attorney for a frank and honest appraisal of their case."
About Braud & Gallagher
The New Orleans accident attorneys of Braud & Gallagher aggressively advocate for the rights of victims who have sustained serious injuries in accidents across Louisiana. The firm's areas include New Orleans and surrounding communities in Jefferson Parish, Baton Rouge, St. Charles Parish, Mandeville, Terrebonne Parish, Lafourche Parish and St. John the Baptist. The firm's practice areas include car accidents, motorcycle accidents, trucking accidents, commercial vehicle accidents, pedestrian accidents, bicycle accidents and bus accidents. To learn more about Braud & Gallagher or to schedule a free case evaluation, call (800) 256-5674 or use its online contact form.