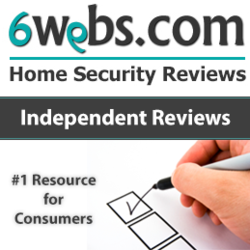 View detailed comparisons of the features and services of the leading home security system providers on 6Webs.com. The number one consumers' choice for independent reviews.
New York, NY (PRWEB) March 01, 2013
6Webs.com is helping consumers decide on the best alarm system for their families by providing independent and unbiased reviews of the top alarm system providers in the nation. The 6Webs.com review team is going from state to state and conducting reviews and ranking the best security companies who offer services in each state.
New York, the Empire State, has over 376,000 property crimes each year according to the FBI's Uniform Crime Report. With 1 incident of property crime for every 52 New York residents; it is apparent that the residents of New York recognize the importance of protecting their home and loved ones with a home security system.
According to Tim Smythe, the senior editor for 6Webs.com, "FrontPoint Security was voted the best security company in the state of New York for several reasons. One, they maintain an outstanding customer service record. This is the main reason why FrontPoint Security won the 6Webs.com Gold Award in 2012 and yet again in 2013. Two, their outstanding customer service combined with their state-of-the-art cellular monitoring services and brand named equipment makes FrontPoint Security the number one choice among New Yorkers."
The top New York home security companies can be viewed by visiting the 6Webs.com website. To view the national results consumers can view them at:
http://www.6Webs.com/best-home-security-systems/
In addition to the home security rankings, comparison data is available where the features from each company can be viewed in a side-by-side comparison. Detailed information such as ADT Security reviews covering monitoring plans, current deals and pricing information are also available.
During the New York home security company reviews the 6Webs.com team discovered that technology also plays an important role when consumers are deciding on the best security system for their family and lifestyle. With smartphones becoming so affordable now, there is an app for almost service and the home security industry is no exception. Mobile features to remotely steam video from a wireless security camera or receive text message alerts when someone opens a door are all popular features that are included with each company's preferred monitoring plans.
About 6Webs.com
6Webs.com is the nation's number one provider of independent and unbiased home security systems reviews. Each year the 6Webs.com review team investigates the top home security systems providers and ranks them on their website according to aspects which are important to consumers.