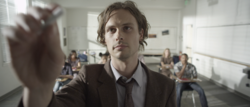 Festival Worth The Entry Fee - Movie Maker Magazine
Los Angeles CA (PRWEB) March 22, 2013
New Media Film Festival is proud to announce early selections from USA, Singapore, Canada, Australia, Ireland, India, South Africa, Switzerland, Brazil & Finland.
Early Selections:
WEB SERIES: EVENT ZERO- EPISODE 7 -World Premiere
2012/Australia/03:46/Dir. Andrew Traucki
A paranoid Harriet thinks she is being chased by a man in a
suit- what is she hiding?
APP: FULL METAL JACKET DIARY - World Premiere
2012/USA/03:47/Matthew Modine and Adam Rackoff
During the two years Matthew Modine filmed Full Metal Jacket, he kept a detailed account of his entire experience with Stanley Kubrick, including a diary and photographs from behind-the-scenes. Full Metal Jacket Diary. Intended only as a collector's item, once these books sold out they were never seen again, until now. Working with artist and filmmaker Adam Rackoff, Modine creates an all-new interactive version of the book for the iPad that immerses you into the world of Kubrick and Full Metal Jacket. Besides the journal and photography, film enthusiasts will swim through the project, enjoying audio from Modine, sound effects, original music, and other never-before-seen images and content; really grasping the intensity of Kubrick and what he was all about as an artist.
ANIMATION: TRID AN STOIRM (Through The Storm)
2012/Ireland/07:35/Dir. Fred Burdy
A woman forces a Banshee to guide her to the Celtic realm of Death to
bring her husband back to life.
SHOT ON RED: 1) THE LEARNING CURVE - Los Angeles Premiere
2012/USA/17:37/Dir. Phil McCarty Starring Matthew Gubler of Criminal Minds
David Sedaris is a new creative writing teacher and tries to teach his students creative writing, failing miserably.
Click HERE and scroll to see all early accepted programming including panels.
Entries are being accepted until May 1st, 2013 with a locked schedule on May 15th 2013 for:
A ONCE A YEAR SPECTACULAR: 4th Annual New Media Film Festival
DATE: June 11th & 12th 2013
WHERE: The Landmark West LA 10850 W. Pico Blvd. Los Angeles CA 90064
WHY: The Best in New Media… Honoring Stories Worth Telling.
HOW: http://www.NewMediaFIlmFestival.com click on attend festival.
JUDGES: From Fox, Pixar, ILM, The Caucus and other Industry Leaders .Music Videos judged by Two Time Grammy Nominee Barry Goldberg & Two Time Gemini Winner Ron Proulx. Trailers are judged by Steven Lenowitz, Reporter National Movie Trailers Examiner. Machinima is judged by Emmy Nominee Tony Dyson, builder of R2D2 for George Lucas.
ENTRIES accepted until May 1 2013
CHOOSE from 17 categories
EACH submission is considered for Screening, Competition ($45k in Awards) & Distribution: non - exclusive, platforms include Windows 8, ITunes and 2000 others
"New Media Film Festival makes the cutting edge accessible"- Huffington Post
"Sundance for the Facebook Crowd" - Culture Rehab
"Top 10% out of 200 Million Award "Most Viewed Social Media Profiles @LinkedIn for 2012"