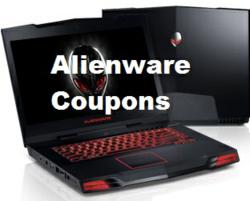 Smart online shoppers can save money by taking advantage of these latest Alienware discount coupons from Dell.
(PRWEB) March 28, 2013
Newly released Alienware gaming laptop and desktop coupons have just been listed on Bizwaremagic.com, which runs a helpful online laptop buyer's guide. Potential online shoppers can get $100's off popular Alienware gaming products by using these handy discounts or coupons.
Newly featured offers include the following discounts where gamers can save $304 off the Alienware M17x gaming laptop with a 3rd Generation Intel Core i7 processor, full HD 1080p display, 2GB AMD 7970m GPU, Backpack, and Headset - all for $1779. Save $230 off Alienware M14x gaming laptop with a 3rd Generation Intel Core i7 processor, 8GB memory, 500GB hard drive plus 32GB SSD - all for $1099. Savvy shoppers can also get an extra $100 off the Alienware M18x 18-inch gaming notebook.
In addition, the Alienware X51 gamer's desktop with 2nd Generation Intel Core i3, 6GB memory, and 1TB hard drive is also offered at $549. All these offers come with free shipping and potential customers should see the official Dell site for all terms and conditions.
As a featured part of its online Laptop/Computer Buyer's Guide, the Bizwaremagic site lists or posts all the latest discount coupons for its visitors, subscribers and patrons. This helps potential computer and laptop buyers, not only with getting the best information and advice, but it also gives them serious savings off their future purchases. Subscribers and visitors are advised to bookmark these "Coupon Pages" as they are updated regularly or when new coupons are released by Dell, Alienware, HP, Toshiba and many more brands.
This particular updated Alienware Coupons/Discounts Page can be found here: http://www.bizwaremagic.com/alienware_coupons_discounts.htm. Bizwaremagic.com is a handy 11-year-old site which features many free guides and resources. You can follow us on Twitter @bizwaremagic or like us on Facebook here: http://www.facebook.com/pages/Bizwaremagic/420771121334912. All products/companies mentioned above are registered trademarks of their respective owners and companies.