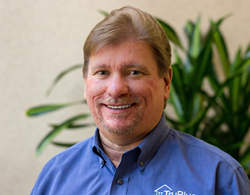 We know our franchisees and their customers are going to love the new websites and we are confident the design and functionality will help us take our franchise system to the next level. - Greg Platz
CINCINNATI (PRWEB) October 22, 2018
The leadership at TruBlue Total House Care, the senior-focused home maintenance franchise based in Cincinnati, understands that the power of their franchise lies in the combination of a having a flexible, local business opportunity along with the support and structure of a strong franchise system. Now TruBlue has launched a new locally-customizable and nationally-supported website system to take that combination to the next level.
"Although we want people to recognize the TruBlue name and understand that we have a national support system, we also want local franchisees to be able to build their business to meet the needs of their own community. We need to be able to impress customers and speak to them on a local level with one glance, which means having a clean, user-friendly website that can be locally-customized on multiple levels. We worked with Scorpion Internet Marketing to make that happen. Now franchisees can adjust multiple sections of the website, even down to the header image, which they might change to reflect their local community," TruBlue President Greg Platz said.
Scorpion is an award-winning, full-service Internet marketing company that has managed thousands of campaigns throughout North America, driving millions of leads to businesses through cutting-edge websites and targeted online marketing campaigns. Scorpion is a Google Premier Partner and won the Google Innovator of the Year Award in 2016. Platz said he was impressed with Scorpion's reputation as well as their understanding of what TruBlue was looking for as a franchise system.
"We have a wide variety of services and revenue streams, which can make the company research process difficult for potential customers. We know we only have a few seconds to catch someone's eye, so we wanted to make sure our franchisees could make their websites as local and helpful as possible while also keeping our branding consistent and not passing all of the backend maintenance onto each franchisee. We know our franchisees and their customers are going to love the new websites and we are confident the design and functionality will help us take our franchise system to the next level," Platz said.
TruBlue franchisees offer handyman services, maid and cleaning services, lawn care, emergency repairs, seasonal projects, a home watch program, a senior accessibility program and more. TruBlue also works with Realtors®, commercial clients and recently started offering monthly maintenance programs as well as an interest-free financing option for home repairs. TruBlue is unique because, while the services are great for anyone, the franchise places a heavy focus on being able to serve seniors and help them live safely and comfortably in their homes for as long as possible.
Scorpion Representative Meagan Tilton said the Scorpion team worked closely with Platz and the TruBlue family to make sure the website reflected TruBlue's blend of professional and personable while also keeping seniors and families at the forefront.
"We understand that the goal is to bring in new customers, which means users need to have a great first impression and a user experience. We want them to be able to spend as little time as possible thinking about the navigation of the website so that they can focus more of their attention on the services and what sets TruBlue apart," Tilton said. "Franchisees will like the website too because of the customization options, but also because of the interface and reporting capabilities. With the new website, it's very easy for franchisees to understand how the website is performing, where their website leads are coming from, which is important for future planning."
TruBlue Total House Care, which was founded in 2011 in Cincinnati, was recently recognized by Entrepreneur Magazine as the 15th fastest growing franchise in the nation. TruBlue Total House Care is part of the Strategic Franchising Systems family, which also includes, Caring Transitions, Fresh Coat Painters, The Growth Coach and Pet Wants. TruBlue currently has 24 locations throughout the United States.
To find a TruBlue Total House Care technician near you, call (800)291-0771 or visit http://www.trubluehousecare.com/locations. To learn more about franchising with TruBlue Total House Care, call (877)839-3069 or visit https://trubluefranchise.com/.
About TruBlue Total House Care
TruBlue Total House Care provides one convenient and affordable solution for all your house care needs – inside and out. TruBlue's services include maid services, household repairs, yard work, emergency repairs and seasonal work, all handled by a dedicated House Care Manger. These affordable services are available year-round and customized to meet your needs and budget. TruBlue strives to provide affordable, worry-free living for Seniors and hassle-free living for Busy Adults with the goal of eliminating the worries, hassles and headaches of home maintenance by providing full-service, trustworthy house care services to fit any budget.