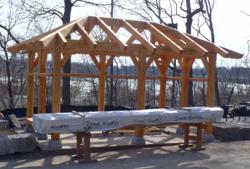 We're excited this age-old craft can be enjoyed by over 8 million people that visit this exciting destination each year
Farmington, New York (PRWEB) April 30, 2013
A 20x10 timber frame pavilion on Goat Island was crafted and raised by New Energy Works Timberframers last week. Once completed with glass inserts, roofing, and landscaping by Scott Lawn Yard, Inc. the pavilion will provide shelter and a place to rest at the Three Sisters Islands stop of the Niagara Falls Scenic Trolley.
"As well as creating a good spot to relax and wait for the trolley, the timber frame construction of the pavilion is extremely durable, able to handle wind and snow loads with ease," explains Megan Dean, Sr. Marketing Specialist at New Energy Works. "As an added bonus, the location of the pavilion offers great views of the falls."
Timber framing, a historic form of construction, uses traditional mortise and tenon joinery secured with hardwood pegs. The pavilion's handcrafted, kiln dried Douglas fir timbers were cut and pre-assembled first in New Energy Works shop, then joined at the Three Sisters Islands jobsite on Goat Island. The frame was raised by New Energy Works east coast team, which was headed by Marc Schaertl, a master timber framer and member of the company's community for 25 years.
"We're excited to have a project so close to Niagara Falls where timber framing can offer shelter and artistry; where the age-old craft can be enjoyed by over 8 million people that visit this exciting destination each year," continues Dean.
New Energy Works Timberframers have been designing and building environmentally responsible timber frames across the USA for nearly 30 years from their facilities in New York and Oregon. Offerings include: Timber Framing (design, engineering, manufacturing, build), Enclosure Systems, Fine Woodworking, Recycled and Sustainable wood products. New Energy Works has two LEED AP staff members, is a member of the US Green Building Council and is FSC Certified.