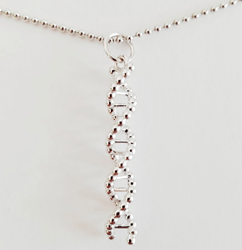 "We are creating more ways for women to show their love for science."
SAN DIEGO (PRWEB) August 24, 2018
We are pleased to introduce a brand new, science-inspired fashion company, Jewelry & Code. Founded by Dr. Jennifer Cohen and Dr. David Aguilar, their careers in medical science led them to a new mission. This mission was to offer women fashion that creatively, authentically, and artistically expressed their love for STEM in a beautifully feminine way.
"Women are engaged with science and technology in a way like never before," Co-Founder Jennifer Cohen said. "There are camps of young girls learning to code, women scientists fill entire convention halls, and little girls are doing experiments on YouTube. We are creating more ways for women to show their love for science."
Jewelry & Code is starting with a jewelry line that celebrates DNA. This line blends the amazing wonders found in science with the elegance of fine jewelry. There are even options to add birthstones to create personal meaning for the wearer.
"Many people don't realize DNA is 99% identical across all human beings and just a small amount makes us each different," Aguilar, Co-Founder of Jewelry and Code explained. "These pieces celebrate the makeup we all have in common."
Jewelry & Code pledges part of their proceeds from this jewelry to go to trusted foundations in genetic disease research.
About Jewelry & Code: Jewelry & Code was created to bridge fashion and science, offering beautifully expressive apparel and jewelry. The business was founded by scientists who have made impact in their fields of pharmacology, gene editing, toxicology and cancer. We recognize the beauty behind the science of what we are doing and seek to meld science and art.