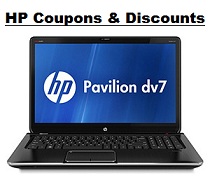 Using these HP coupons and discounts may save Holiday Shoppers $100s off their next purchase from Hewlett-Packard.
(PRWEB) November 27, 2012
Just recently, new HP coupons and discounts, were added to the HP Notebook Coupons page on Bizwaremagic.com, which runs a comprehensive online laptop buyer's guide. This coupon webpage is updated regularly or when new coupons are offered. The savvy online shopper can use these coupons and links to get $100s off the purchase price of quality laptops and desktops from Hewlett-Packard.
Included in the new HP deals are the following: save $10 off your purchase of $50 or more; save $100 instantly plus free shipping on select customized laptops priced $599 and above; save 25% instantly plus free shipping on customized HP Desktop PCs priced $999 or greater. Save $250 instantly plus free shipping on a customized HP Envy dv7t Quad laptop at the HP Home & Home Office Store. See the HP site for complete Terms and Conditions.
HP is one of the leading makers of quality laptops and desktop PCs in the world. The company makes many popular brands, such as the HP Pavilion and the HP Envy laptops. They also make high-performance HP Envy and Pavilion desktops, as well as all-in-one systems. And as everyone knows, HP is also known for its printers, monitors and other electronics.
The company regularly offers coupons and discounts, where smart shoppers can save up to 50% off select items. Like most manufacturers and retailers, HP also runs special promotions around the whole Black Friday/Cyber Monday shopping events. In addition, online shoppers can take advantage of other HP discounts and coupons which will be offered up to and after the holiday season.
For over 10 years, the BizwareMagic site has been offering HP coupons and discounts to its visitors and subscribers The special HP Notebook Coupons Page can be found here: http://www.bizwaremagic.com/HP_Notebook_Coupons.htm All products/companies mentioned above are registered trademarks of their respective owners and companies.