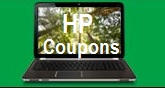 Smart online shoppers already know they can save $100s off their next HP product by using online coupons.
(PRWEB) November 19, 2012
In preparation for the upcoming Black Friday and Cyber Monday shopping events, the HP Notebook Coupons page on Bizwaremagic.com, was recently updated to reflect new deals and offers from Hewlett-Packard. Most savvy shoppers know they can save money by using online coupons and taking advantage of special offers featured on sites around the web, like the ones presented on the Bizwaremagic site.
It's no big secret, major laptop manufacturers, such as HP, Dell, Lenovo, and Sony all offer special online discount coupons, which can be used to save money when buying a laptop or desktop PC. For years, HP has been offering very attractive offers and discounts to entice potential buyers to try its products and those discounts have become even more attractive during the holiday shopping season.
Right now, besides featuring special offers on popular models as HP Pavilion dv6 and HP Pavilion dv7, potential customers can save an additional $50 off select customized HP desktops and laptops priced greater than $999. There are also special discounts on the popular HP ENVY gaming laptops and desktops. As with all online coupons, quantities may be limited and extra conditions may be applied - just check the HP site for all terms and conditions.
Bizwaremagic.com, which runs a comprehensive online laptop buyer's guide, has been running the HP Laptop Coupons page, as a convenient service to its visitors, for over five years. This page is updated weekly or as new online HP coupons are announced. During the busy Black Friday and Cyber Monday events, this page will be updated hourly. Therefore, anyone planning on purchasing any HP products this holiday season, should probably bookmark this coupons page and save some money in the process.
This special HP Notebook Coupons Page can be found here: http://www.bizwaremagic.com/HP_Notebook_Coupons.htm or download our comprehensive free laptop buying guide here: http://www.laptopcomputerguide.org All products/companies mentioned above are registered trademarks of their respective owners and companies.