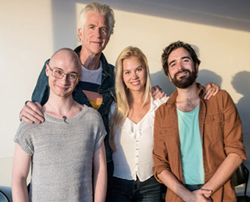 "Filmmaking is very important for our culture and its continued development [...] Congratulations to all our inaugural grantees--I eagerly await the projects you will create," says Modine.
NEW YORK (PRWEB) May 30, 2019
The first four recipients of the inaugural year of the prestigious New York Film Academy College of Visual & Performing Arts (NYFA) Matthew Modine Masters Scholarship have been announced. The grantees are Leeni Linna (MFA Filmmaking), Jose Miguel Perez-Alcazar (MFA Filmmaking), Nicholas Rosolino (MFA Acting), and Lucia Flores (MFA Documentary).
The scholarship provides financial assistance to outstanding candidates of the school's Master of Fine Arts (MFA) programs in select disciplines. To qualify, recipients must demonstrate the values set forth by NYFA to further the art of visual storytelling. Up to ten scholarships are awarded each year. Up to ten scholarships are personally awarded each year by award-winning actor Matthew Modine, who recently announced his candidacy for the presidency of SAG-AFTRA.
Two of this year's Matthew Modine Masters Scholarship awardees, Jose Miguel Perez-Alcazar and Lucia Flores, are attending NYFA as Fulbright Program grantees. The Fulbright Program is an international scholarship program sponsored by the U.S. Department of State's Bureau of Educational and Cultural Affairs. It awards approximately 8,000 grants annually to students, teachers, and professionals from over 160 countries. NYFA is proud to have welcomed over 60 Fulbright students from more than 35 countries to date.
Leeni Linna is originally from Estonia and is currently studying at NYFA's Los Angeles campus. Linna has directed commercials, short films, and documentaries, and is currently working on developing her first feature film as part of her MFA experience. "I see her as being the next Kathryn Bigelow," said NYFA Professor Miguel Cruz. "She is that talented."
Jose Miguel Perez-Alcazar is a journalist and filmmaker from Madrid. Perez-Alcazar was recommended for the scholarship program by the Fulbright Commission in Spain. He speaks four languages, and has studied in Mexico, Argentina, and Holland, as well as Spain.
Nicolas Rosolino is a seasoned stage actor with more than 15 credits to his name. The trilingual actor has trained extensively in a variety of techniques, including Stanislavski, Laban, and Grotowski. "He is not afraid to take major creative risks in his acting work," said Charles Richter, Director of Theatre at Muhlenberg College. "He is an extraordinary talent."
Lucia Flores is a Peruvian documentarian and activist whose work gives voice to minorities. For her next film project at NYFA-- while being supported by the Fulbright Program--she is teaming with fellow grantee Perez-Alcazar to tell the story of transgender women working on the Amazon River.
"Filmmaking is very important for our culture and its continued development," says Modine. "Films help us to understand each other better, often exposing us to personal fears and unpleasant superstitions toward the 'other.' Through a skilled storyteller's film lens, documentaries shed light into the darkness and help make the 'monsters' go away. Similarly, feature films can illustrate the possible, and can open our eyes to worlds and realities beyond our own. Congratulations to all our inaugural grantees--I eagerly await the projects you will create."
The scholarship is sponsored by Golden Globe-winning actor and filmmaker Matthew Modine, who is a member of the New York Film Academy's Board of Directors and a master class instructor at NYFA. He is instantly recognizable to fans of the Netflix global mega hit Stranger Things, which won the 2017 Screen Actors Guild Award for Outstanding Performance by an Ensemble, and as Private Joker from the iconic film Full Metal Jacket. Called "one of the best, most adaptable film actors of his generation" by legendary New York Times film critic Vincent Canby, Modine has worked with many of the film industry's most acclaimed directors, including Christopher Nolan, Stanley Kubrick, and Spike Lee.
About New York Film Academy
New York Film Academy (NYFA) is a leading visual and performing arts school that offers hands-on intensive programs across 15 areas of study in New York City, Los Angeles, South Beach/Miami, Gold Coast (Australia), Florence (Italy), and more. Thousands of aspiring artists come to study at the New York Film Academy each year from over 120 countries. For more information, please visit nyfa.edu.