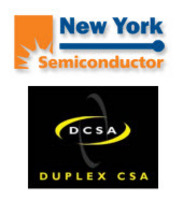 "With our technological advantages coupled with our traditional sales force, we are fully prepared to serve the community in the many different uses for the Duplex line of products." - Mike Mancino, President of New York Semiconductor
Farmingdale, NY (PRWEB) January 11, 2011
New York Semiconductor has entered into a franchise agreement to distribute Duplex CSA Ltd. products.
Duplex CSA Ltd. is a global supplier of industry standard and custom made RF connector and interconnect solutions, shielding products, cable assemblies, and fiber optic products. New York Semiconductor is a global leader in the distribution of electronic components with over 30 years of industry experience in providing advanced procurement and distribution solutions for customers in the defense, aerospace, industrial and commercial markets.
Michael B. Mancino, CEO of New York Semiconductor says "We are proud to have forged this alliance with Duplex CSA. With our technological advantages coupled with our traditional sales force, we are fully prepared to serve the community in the many different uses for the Duplex line of products."
Mancino believes this partnership is mutually beneficial for both companies, and supports New York Semi's. New York Semi has implemented an aggressive growth strategy of building and maintaining direct relationships with manufacturers of electronic components worldwide.
###