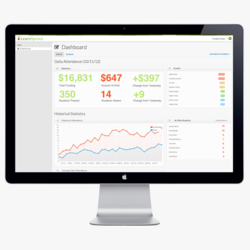 We're interested in answering some new questions about the performance of our schools.
San Francisco, CA (PRWEB) November 27, 2012
LearnSprout, the first universal application programming interface (API) for K-12 education announced today two new apps for schools and districts: LearnSprout Dashboard and LearnSprout Messages while presenting at the Software & Information Industry Association's EdTech Business Forum.
Selected as one of twelve startups to present at the prestigious SIIA Innovation Incubator program, LearnSprout made the product announcements in front of an audience of industry professionals, thought leaders and reporters at the McGraw-Hill Convention Center in New York.
LearnSprout Dashboard will provide instant visual analysis of data stored within a school or district's student information system (SIS). Administrators will be able to identify at-risk students, spot trends and measure a variety of correlations using live attendance, grades and various student demographic data. As Dashboard signs on more schools it will be possible to provide administrators with a comparison for analysis by displaying aggregate state and national trends.
"We're interested in answering some new questions about the performance of our schools," said Frank Chien, CEO and co-founder of LearnSprout. "What is the correlation between absenteeism and immunizations? What day of the year are students across the country most likely to be absent? How does the absenteeism pattern at my school compare to state and national averages? Up to this point, these have been difficult questions to answer."
LearnSprout Dashboard will be available in early 2013 with the release of the attendance dashboard, but schools and districts can sign up today on the company's website. Access to LearnSprout Dashboard will be available to schools and districts at no cost.
At the summit, LearnSprout also announced the launch of Messages, an affordable alternative to outbound phone messaging systems providing school-to-home voice, text and text-to-voice messaging in English, Spanish, French and German. Built off the LearnSprout Connect and Twilio APIs, Messages is able to access live attendance and contact information from a school or district's student information system (SIS). LearnSpout Messages takes less than fifteen minutes to set up and requires no formal training.
"We know from talking to school administrators that the ability to access live SIS data could be a game changer," said Joe Woo, co-founder of LearnSprout "but we didn't have any good examples to demonstrate the power of the LearnSprout API, so we decided to build our own." Woo highlighted how easy it was to build off the LearnSprout API: "Messages took us less than two weeks to build. One of the guys on our team got the idea to combine the Twilio API with LearnSprout and before we knew it, we had a full-featured outbound phone and text messaging solution. This is the type of accelerated development we hope to cultivate in the edtech industry."
LearnSprout recently made headlines with the launch of a universal API which dramatically simplifies interoperability between student information systems (SIS) and other edtech software. With a direct database connection that can pull live school schedules, rosters, accounts, student demographics, grades and attendance, LearnSprout has solved the long-standing problem of SIS integration for schools, districts and edtech companies.
"LearnSprout took just a few minutes to set up and eliminated the hassle of integrating with our PowerSchool student information system," said Michael Teng, Director of Instructional Technology at Rocketship Education. "It's been refreshingly simple and reliable."
About LearnSprout
LearnSprout represents the latest thinking and best practices behind the development of Application Programming Interfaces (APIs) and has built the first universal API for K-12 education. By building a single integration that works across multiple student information systems (SIS), LearnSprout has opened the door to a world of student engagement data that until now, has been locked away, inaccessible to most K-12 administrators and aspiring edtech developers. Free to schools and districts, LearnSprout Connect is the easiest and most secure, FERPA compliant method for integrating an SIS within the edtech ecosystem.
LearnSprout was founded by Google, Facebook and Microsoft alumns Anthony Wu, Franklyn Chien and Joe Woo and supported by Andreessen Horowitz, Formation 8, Code for America and Imagine K12.
On the web: LearnSprout.com
Facebook: facebook.com/LearnSprout
Twitter: twitter.com/LearnSprout
For media inquiries:
Paul Smith, Marketing for LearnSprout, (916) 741-7644, paul(at)learnsprout(dot)com or @prsmith2009 (twitter)
###