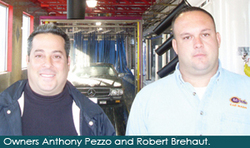 Newburgh, NY (PRWEB) June 23, 2010
This weekend you can get a clean car and support a good cause-on Saturday and Sunday, June 26 and 27 Minute Car Wash will donate a portion of the proceeds from every car wash to support the City of Newburgh July 4th Committee's efforts to raise money for the annual fireworks.
"Fundraiser for Fireworks" will be held at both locations, 650 Broadway and 160 South Robinson Avenue.
Company president Anthony Pezzo and business partner Robert Brehaut opened their Broadway location around the 4th of July in 2009, to supplement their other location. At that time, they developed a Helping Hands Program to give back to the community.
A couple of weeks ago, they saw July 4th Committee chair Regina Angelo on local television stations asking for donations and sponsors for the fireworks.
"The fireworks are important to the community," said Pezzo. "We decided this would be a good way to celebrate our first year anniversary on Broadway."
Besides Newburgh, Pezzo, along with his partner Charles Oakley, a former player for the Knicks, has 14 locations, including one in Brooklyn and one in the State of Florida. The other locations are known as Oakleys car wash, but in the City of Newburgh, where Minute Car Wash began about 50 years ago, they decided to keep the original name. The Broadway location features a state-of-the-art design, a 145-foot wash system tunnel, a Green Mountain coffee bar, an automotive accessory store, and a complete detail center.
"We are so grateful for the support of Minute Car Wash, and other local businesses and individuals who are helping to make this year's fireworks possible," said Regina Angelo. "We always want to provide events for the community, but this year, the community is making the July 4th celebration a reality."
For more information about Fundraiser for Fireworks, or the Helping Hands program, please contact Anthony Pezzo at 914-755-2016. If you can't get to the car wash this weekend, but would like to support the mission of the City of Newburgh July 4th Committee, which also includes Chuck Thomas, Tom Knieser and Dale Post, contact Regina Angelo at (845) 565-5429 or Ann Kuzmik at (845) 569-7354.
###