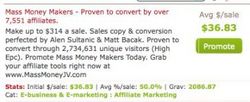 Mass Money Makers passed 2,000 ClickBank gravity on January 8.
Duluth, GA (PRWEB) January 15, 2011
The Mass Money Makers' ClickBank initial launch may have come to a close two weeks ago, but that isn't stopping the super-affiliate system from raking in sales on the digital marketplace. In fact, the product scored its largest victory to date last week, passing a 2,000 ClickBank gravity ranking on January 8. As the first product to ever do so, that feat set a resounding record on the digital marketplace, slaughtering the old mark. It also loudly and clearly sent the naysayers who had declared such a goal "unheard of" tucking their tails between their legs and plugging their ears.
Even though their detractors said it couldn't be done, Matt Bacak and Alen Sultanic paid them no mind. The Internet marketing dynamic duo went ahead with the ClickBank debut of their Mass Money Makers products in the midst of the hectic holiday and the nay-saying. Then they pushed for the so-called impossible: a 2,000 gravity ranking on the digital marketplace. At the end of the seven-day launch period, they'd managed to come close to that elusive goal but no cigar. It seemed they were destined to fall just short of their goal.
Then an interesting situation began to take shape. Despite ending of the initial release and raising Mass Money Makers' price, sales continued to flood in for the super affiliate technology and mass money making method. That continued selling momentum kept pushing the product higher, and in the middle of January, Bacak and Sultanic got the news they'd set out to hear. They turned the impossible into the possible, cracking the 2,000 gravity mark and stunning his cynics into silence.
That accomplishment set a record, raising the ClickBank gravity bar to a near-unbreakable level. As much as Bacak and Sultanic are enjoying the record shattering accomplishment, Bacak's savoring another feat even more: breaking his own customer acquisition record that he set all the way back in September 2008.
"While the market is saying that the gravity ranking bull's-eye is the biggest victory of the Mass Money Makers' launch, I personally enjoyed destroying my old record to pieces," Bacak explains "the old record almost broke me in more way then one and now I can finally enjoy an amazing victory with a new business partner and trusted friend Alen Sultanic."
"People all over the world were actually taking bets on the final number we would hit. They all said we could never make the 2,000 happen," says Bacak. "In the great words of my partner, 'the strongest force on the internet.. is not technology, the list, the traffic.. it's the relationships that create them.'"
Internet marketing affiliates and JV partners who would like to keep Mass Money Makers' ClickBank momentum going can learn more by contacting Tamara Smith at (770) 623-3008. To watch Bacak discuss his record-breaking attempt, visit massmoneyjv.com
# # #