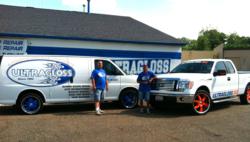 Akron, OH (PRWEB) July 28, 2011
Ultragloss put two new franchisees on the road this week: Greg Todd and Anthony Lopane. The two men completed all their franchise requirements two months after signing their franchise agreements with Ultragloss. Ultragloss is an automotive appearance company offering mobile franchises to qualified individuals. Before arriving for their 12-day boot camp style training, Todd and Lopane had a series of tasks to complete so they were prepared to initiate business on day thirteen.
The Ultragloss program includes preliminary pre-opening business obligations, set-up and personalization of the mobile billing software, and completion of the Ultragloss online training courses comprised of instructional videos and tests to better prepare franchisees for the training to come.
"We have worked very hard to be in the position we are in today," says founder Steve Marble, "I want to make sure our franchisees are the very best and they are given the proper tools to help us build the Ultragloss name and standard for quality."
Ultragloss has incorporated new technology into an older industry to help keep their franchisees up-to-date and well informed about industry trends. Their online learning management system (LMS) is open to franchisees even after they complete training. The user-friendly LMS has instructional videos, quizzes, and assignments to first teach franchisees about the art and processes of automotive appearance craftsmanship and secondly it acts as a resource for franchisees once they are out on the road. "That's one of my favorite aspects of this whole experience," says Todd, "I know I always have somewhere to go for information and practice."
# # #