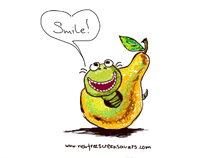 London, UK (Vocus/PRWEB) March 26, 2011
April Fool's Day is a special day, when it is possible officially to fool somebody or even be fooled by somebody. NewFreeScreensavers.com, a website with safe and free screensavers, has prepared special free prankish screensavers for this occasion. Oh! Be careful!
Newfreescreensavers.com has released a special collection of screensavers to play a prank on friends or co-wokers. The only thing a prankster should do is to download and install one of Newfreescreensavers.com'S April Fool's Day screensavers at their friends' or co-workers' computers, adjust settings for screensavers and wait for the result! Screensavers nfsSystemIsBlocked, nfsStandBack or nfsFormatDisk with warning messages like System is blocked will be good for an office, while other screensavers will just make somebody smile and put them in good spirits.
For some screensavers it is necessary to use ESC button to log off a screensaver, but Newfreescreensavers.com team does not suggest pranksters to inform their 1 April's victims about it at least within the first minute after a screensaver is on!
Also Newfreescreensavers.com recommends to install NFS Screensavers Manager, a free application, which runs under XP and Vista, to download all April Fool's Day screensavers, then adjust order settings to change every 1 minute and have fun!
All free screensavers at NewFreeScreensavers.com are safe to install and run and will work on any version of Windows from XP to Windows 7. The downloads are typically small, and taking only moments to install, you can start using them right away with minimal hassle.
COMPANY:
NewFreeScreensavers.com offers a collection of completely free screensavers and features a blog with tips and tricks section about screensavers and screensaver reviews. To download a safe free screensaver, and to learn about the best screensaver available, visit: http://newfreescreensavers.com/best-screensaver/.
# # #