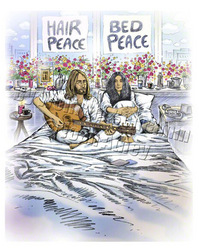 Yoko Ono is a remarkable woman, and the more we look back at Lennon's legacy, the more his lessons continue to propel us forward towards a better world.
Boca Raton, FL (PRWEB) August 4, 2010
Fresh, undiscovered photographs by Gerry Deiter and a remarkable first-person story shed a new light on John Lennon and Yoko Ono's peace efforts in 1969. WAR IS OVER (If You Want It) is a new component of the popular touring exhibition, Give Peace A Chance: John Lennon and Yoko Ono's Bed-In for Peace, curated by Joan Athey of Victoria, B.C., circulated by ArtVision Exhibitions, LLC. Another new interpretive component is an extraordinary mural by accomplished graphic designer, Wolfram Schramm, of Gerlingen, Germany. The expanded exhibition debuts October 9 in Illinois at the Lake County Discovery Museum near Chicago, in time to celebrate Lennon's 70th birthday. The exhibit runs to January 2, 2011
"When I took over the management of Gerry Deiter's archive of images from the 1969 Bed-in," said Athey, "One sleeve of negatives puzzled me. They were obviously not taken during the week of the bed-in. It took me two years to research and curate the exhibition, Give Peace a Chance for inter-generational education and public enjoyment. I put the mysterious negatives onto the back burner to examine more closely when I had the time."
Athey further explained, "Confident the exhibition was complete and touring, I worked backwards through the sequence, starting with an obvious series of photographs from a press conference in December in Montreal. I recalled Gerry (Deiter) telling me that Lennon had called him and told him that they were going to announce something big and invited him to a private photo session prior to the announcement. But where? The curious setting for this private session turned out to be a dome car of a Canadian National Railway Rapido coach. Using a strategy deployed by English royalty, Lennon and Ono had rented a train to go to Montreal, avoiding fans who swarmed their limousines whenever they ventured out."
"But the most interesting aspect of my research was tracking down an old friend of Lennon's. I wondered – who was the graphic designer they worked with to create the historic WAR IS OVER campaign posters and billboards?"
Through an amazing synchronicity, Athey discovered John Kosh. Known simply as "Kosh," he is a renowned documentary filmmaker living in Los Angeles. His pedigree as a designer of album and CD covers for a panoply of the biggest rock bands in history is legendary. As a multi-Grammy® award-winner, he has seen it and done it all. According to Kosh, working with John Lennon was the adventure of a lifetime. His candid recollections of the years he worked with Lennon and his pivotal role in the WAR IS OVER campaign is described in images and an essay to be mounted for the public for the first time at the upcoming exhibition at the Lake County Discovery Museum in Wauconda, IL.
ArtVision President, Victoria Rehberg, is very excited. "Yoko is calling the 2010 re-mastering of her husband's solo albums the 'Gimme Some Truth' campaign. Working with Joan Athey, I can see it all started with the Bed-in and the follow-up WAR IS OVER messages which reflected the need for more honesty and people-powered peace in the world. She (Yoko) is a remarkable woman, and the more we look back at Lennon's legacy, the more his lessons continue to propel us forward towards a better world."
For more information, contact Victoria A. Rehberg at ArtVision Exhibitions, LLC
###