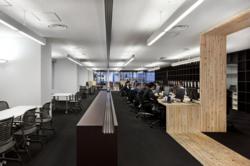 "We understood the office should become a connecting "hub" rather than a static destination"
Tokyo, Japan (PRWEB) March 27, 2013
Free address workspace where hard drives, fixed phone lines and cabinet space are a thing of the past, "refresh kiosks" offering special features like massage chairs and healing music, a giant cedar "Dining Table" style work center where preferred seats are taboo and across-division communication thrives, and luxurious use of "Kanbatsuzai" or recycled wood to help preserve Japan's forests are but a few features that make the new Midas office design a magnet for facility managers in every industry.
Everyone is looking to re-engineer office space to raise worker satisfaction, lower fixed cost and provide efficient service to clients.
Basically, Midas proves that an improved office environment will improve your bottom line. Two months after the grand opening of its cutting edge model office in Tsukiji, Japan numbers show the psychological and financial value in challenging the conventional office design to meet the ever-changing requirements of a "smarter" business work force and environment.
Maintaining Corporate Growth Amid this Workplace and Work-style Evolution Requires A Brand New Office Environment.
Based on 36 years of experience serving some 5000 demanding clients including Alcatel-Lucent, DHL Supply Chain, Levis, Callaway Golf, and Fujitsu, Midas learned the conventional office design required a major overhaul. In November, 2012, after a year of planning and meticulous discussion, Midas bit the bullet and ripped apart their Tsukiji home office. Out went the knick knack and document-filled cubicles, tethered fixed telephone lines, multiple meeting rooms and glaring office lighting. In came hot desking, smart phone centered un-tethered infrastructure, purpose-focused meeting rooms and softer LED lighting.
"We knew that work style trends were undergoing unprecedented change in terms of the mobile workplace concept. Basically, people with their note PC can pretty much work anywhere. Simultaneously though, the need for communication among employees, remains a critical concern. We understood the office should become a connecting "hub" rather than a static destination," explains Kiyohiko Ozawa, Harvard educated President of Midas consulting firm, DOUMA. http://www.douma.jp/home_english.html
"We constantly consult with clients on how to improve their bottom line with innovative office design and layouts, but to really take it the whole nine yards, we decided to do a full overhaul of our own office and create a real model example of our approach," continues Ozawa.
The risk Midas took is paying off earlier than expected.
1. Free-address open seating achieved a 30 percent rise in communication among employees and partners allowing for an increase in average project number per employee to rise from 5 to 7.
2. Two tons of cedar "Kanbatsuzai" used in the design laces the air with a light, healthy scent and elicits a sense of pride and unity among staff because they know they are contributing in a real way to preservation of Japan's forests.
3. Reduction from 7 meeting spaces to one formal meeting room, speed meeting standing room and an innovative multi-functional "Forum" area attracted more than 15 seminars since January and the Midas office is becoming a networking hub of learning and presentations for clients, partners, Chambers of Commerce and other business organizations.
"In the former office design where everyone had a set place to sit, I would come for my weekly meetings and feel more like an outside guest than contributing partner. The new layout allows me to sit next to a different team member on every visit in an extremely welcoming environment. The free-address system inspires deeper communication and better generation of fresh ideas from everyone including part-timers, interns, outside partners or clients," states Ruth Jarman Shiraishi CEO of Midas partner firm, Jarman International KK.
Midas office attests to the company's sincere focus on responsibility to employees, environment and valued clients. With inquiries on the rise and employee satisfaction greater than ever, Midas is ready to tailor their unique approach to the individual requirements of new and existing clients.
Contact in Japan
Midas Company Limited
Round-Cross Tsukiji, 3-9-9 Tsukiji, Chuo-ku, Tokyo Japan
Tel: +81-3-3524-4141
Ms. Miyako Ikeda
info@midasco.co.jp
Contact for DOUMA
Mr. Kiyohiko Ozawa
info@douma.jp
http://www.linkedin.com/pub/kiyohiko-ozawa/2b/93a/727
Contact in Hong Kong
Midas Office Design (HK) Limited
Unit B 4F, Wing Hang Finance Centre, 68 Gloucester Road, Wan Chai, Hong Kong
Tel: +852-9444-0383 (Mobile)
Mr. Hirotake Hayashi
http://www.linkedin.com/pub/hirotake-hayashi/56/207/848