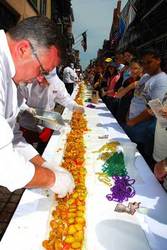 "The New Orleans Roadfood Festival lets food-lovers eat their way across the U.S.A., bringing the best regional specialties from across America to the French Quarter."
New Orleans, LA (PRWEB) January 26, 2010
The second annual New Orleans Roadfood Festival will transform 5 blocks of Royal Street in the French Quarter into a food-lover's paradise on Saturday March 27 from 11 a.m. to 7 p.m. and Sunday March 28 from 11 a.m. to 6 p.m.
The Roadfood Festival is the creation of a countrywide team of foodies, including Jane and Michael Stern, best-selling authors of Roadfood and regular guests on public radio's "The Splendid Table", and Stephen Rushmore, Jr., the creator of Roadfood.com. The New Orleans Convention Company will coordinate all logistics for the Festival.
The New Orleans Roadfood Festival will gather twenty vendors--drawn from Louisiana's best restaurants and from destination Roadfood restaurants around the country--to serve up legendary dishes, in affordable sample-size portions, from the landmark restaurants that make them best. Among the dishes visitors will enjoy: real Texas barbecue from Louie Mueller's; seafood chowder from the Maine Diner; Shrimp Uggie made by Anthony and Gail Uglesich, who are coming out of retirement to participate; Tucson Tamale Company's hot tamales; Tony Luke's Philadelphia cheese steaks; and much more.
The Festival kicks off on Friday March 26 with a VIP opening party, where Roadfood.com will bestow its inaugural Roadfood Blue Plate Award on Anthony and Gail Uglesich. The Roadfood Blue Plate Award honors the men and women who embody the best of America's regional cuisine. Other Festival events include the creation of the World's Longest Oyster Po' Boy; a beignet-eating contest; a Saturday evening crawfish boil and pig roast; and strolling brass bands.
Michael Stern, festival co-organizer, said, "You could travel for miles and months around the country and never discover all the great dishes festival-goers will enjoy in one weekend at the New Orleans Roadfood Festival. Here is an opportunity for passionate eaters to discover the best specialties that define American food at its most colorful."
Admission is free; proceeds from food and beverage sales go to participating restaurants, including New Orleans' own Cafe Reconcile, which gives at-risk youth the opportunity to learn the food service business. Last year's festival, which focused exclusively on Louisiana cooking, attracted more than 15,000 visitors.
Festival updates are available on Facebook and Twitter.
###