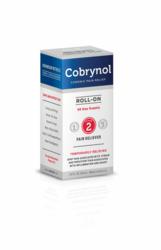 Boca Raton, Florida (PRWEB) March 05, 2013
Ocean Pharmaceuticals LLC is scheduled to release its new over-the-counter Stage 2 chronic pain relief medication today. Cobrynol is for people with chronic pain such as joint pain, inflammation, fibromyalgia, arthritis, migraines, neck and back injuries and other persistent conditions.
"I'm very excited for the launch of Cobrynol. It's a clinically-proven, innovative pain relief medication in an arena where people with chronic Stage 2 pain currently do not have many options," said CEO Jeffrey Friedman, CEO of Ocean Pharmaceuticals.
For centuries cobra venom has been of great medicinal importance in cultures throughout the world. Its powerful healing qualities date back to Greek mythology. In fact, the logo of the American Medical Association features a physician's staff intertwined with a serpent, like the one carried by the Greek God of medicine, Asclepius.
In the U.S., the concept of using cobra venom as an analgesic dates back to 1936 when researchers showed that the analgesic effects of cobra venom in minute doses were far superior to the effects of morphine.
Now, Ocean Pharmaceuticals has developed a line of Cobrynol products that represent a welcome alternative to NSAIDs (non-steroidal anti-inflammatory drugs) like aspirin, acetaminophen, and ibuprofen, as well as highly addictive opiates such as morphine, Vicodin, OxyContin, and Percocet.
Cobrynol is all-natural, non-addictive, non-narcotic, non-drowsy, and easy to use. It is available in oral spray and roll-on applications and will be available for purchase at http://www.cobrynol.com and at select retail locations.
For more information, visit http://www.cobrynol.com.