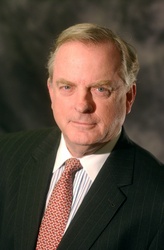 The Times' content of news and information is perfectly positioned for growth in extended markets through digital, television and radio.
Washington, DC (Vocus) March 25, 2009
The Washington Times has appointed news media and marketing veteran Thomas J. Culligan to serve as Chief Revenue and Marketing Officer of the newspaper and multimedia company based in the nation's capital.
Mr. Culligan has been involved in executive positions at a wide-range of companies including the Chicago Tribune, Minneapolis Star Tribune, Los Angeles Daily News, The Associated Press, Mediapassage.com and Turner Broadcasting.
"Tom Culligan's appointment to lead our advertising sales and marketing departments continues our aggressive transformation from a distinguished print newspaper into a robust multimedia company serving our customers in local, national and global markets," said Tom McDevitt, President and Publisher of The Washington Times. "Tom brings the highest combination of character, experience, and strategic thinking to the job of building new ways to serve customers, generate revenue and promote The Times brand worldwide."
"The Washington Times is one of the nation's most distinctive sources of news and ideas on the issues that shape our country and world," said Mr. Culligan. "The Times' content of news and information is perfectly positioned for growth in extended markets through digital, television and radio."
"Over the years, the company has built strong, productive relationships with its print and digital advertisers, and marketing efforts have helped create a large group of satisfied readers and advertisers," Culligan added.
Throughout his career, Mr. Culligan's insight has been sought by industry leaders and he has been a featured speaker at conferences such as 4A's Media Director's Conference, the Newspaper Association of America Annual Conference and Annual Marketing Conference, Nexpo and numerous other industry meetings.
The Times has been expanding its reach through new products, such as a nationally syndicated radio show and a news wire service, and has enjoyed a nearly 500 percent growth in Web traffic and a 30 percent growth in circulation of its national weekly newspaper over the last year.
"Tom is one of the industry's most innovative business thinkers and his insights have helped inform and guide many great media companies during the digital revolution," Times Executive Editor John Solomon said. "We in the newsroom are excited that he will be leading our charge to monetize the exponential growth we are experiencing in our content platforms and global audience."
Randall Brant recently stepped down from Vice President for Advertising & Marketing to work on special projects for The Times, primarily assisting with domestic and international ad sales.
About The Washington Times
The Washington Times LLC was founded in 1982 as a general interest, full-service daily newspaper providing an independent voice in the nation's capital, and has expanded its reach as a multimedia company reaching its readers through various media platforms. The Washington Times is one of the most-often-quoted newspapers in the U.S. with a reputation for hard-hitting investigative reporting and thorough coverage of politics, policy and culture. The washingtontimes.com web site includes all of the original content from the daily printed newspaper plus original content produced for online users in print, audio, visual and interactive formats, and is one of the leading newspaper web sites in the country.
Contact:
Jonathan Slevin
Director of Corporate Relations
http://www.washingtontimes.com
202-636-4810
# # #