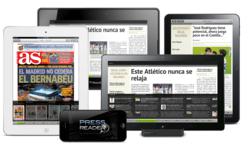 NewspaperDirect makes it incredibly easy for us to deliver a top-quality digital product to our readers everywhere, on whichever device they prefer.
VANCOUVER, CANADA (PRWEB) November 27, 2012
AS, one of Spain's top national daily sport newspapers, is now available through NewspaperDirect's award-winning PressReader application and its companion website, PressDisplay.com. For zero operational cost, AS publisher, Prisa Noticias, has instantly broadened its distribution to millions of global readers who access NewspaperDirect's vast network of full-content digital magazines and newspapers every day.
"NewspaperDirect makes it incredibly easy for us to deliver a top-quality digital product to our readers everywhere, on whichever device they prefer," said Rosalía Lloret Merino, chief digital officer at Prisa Noticias.
Today's announcement marks an important milestone for NewspaperDirect (ND): AS is the 3,000th publication to join ND's digital network of top press titles from around the world, which includes newspapers and magazines from 100 countries and 56 languages, such as The New York Times, The Australian, The Globe and Mail, The Washington Post, Le Monde, The Irish Times, The New Zealand Herald, La Nacíon, Mundo Deportivo, Cosmopolitan, National Geographic, and Hello!
"Spanish-speaking sports fans are going to be thrilled to see that AS is now live across all our digital channels," said Alex Kroogman, CEO of NewspaperDirect. "Reaching sports fans on any tablet or mobile device is especially important for publishers, since these readers tend to be on-the-go consumers of news content. And with PressReader and PressDisplay.com's instant translation capabilities, sports enthusiasts from other countries can now enjoy AS's quality reporting in their own language, opening up AS to the world."
AS takes advantage of the full range of advanced reading enhancements offered by ND's PressReader application, giving readers useful features such as:
■ Presentation of the entire colour newspaper, page by page, in high resolution
■ Two modes of reading — high-definition replica and "SmartFlow" tablet-optimized presentation
■ Touch-based, interactive reading experience
■ Quick scanning of the edition by flipping pages, just like the print edition
■ Easy navigation to specific pages, using page thumbnails or a table of contents
■ Instant translation in up to 12 languages
■ On-demand narration of articles
■ Printing of articles or individual pages
■ Sharing stories through email and on Facebook and Twitter
■ Instant posting of articles to cloud-based clipping services Evernote and Instapaper
PressReader is pre-installed on millions of mobile devices (Samsung, Microsoft, BlackBerry, LG, HP, HTC, Acer, ASUS and Kobo), making AS immediately available to millions of mobile consumers every day. AS can also be read at thousands of libraries, hotels, cruise ships, yachts, businesses and aviation facilities worldwide that subscribe to PressDisplay.com and PressReader for their patrons and customers.
About NewspaperDirect Inc.
NewspaperDirect delivers the world's newspapers and magazines to millions of readers the way they want to receive them — in print, online, or on their mobile device, tablet or eReader — wherever they live, travel, work or play. With the most innovative digital publishing technology in the industry and the only zero-operational-cost business model, NewspaperDirect is recognized as the world leader in multichannel content distribution and monetization, and is the chosen partner of more than 3,000 publishers from 100 countries.
NewspaperDirect's flagship application, PressReader and its companion online service, PressDisplay.com, deliver the most authentic newspaper and magazine reading experience on PCs, Macs, smartphones, eReaders and tablets running iOS, Android, Windows and Playbook operating systems. Today, millions of tablets come preloaded with PressReader from a growing list of leading manufacturers including ASUS, Acer, HTC, Kobo, Microsoft, RIM and Samsung. For more information, visit PressReader.com, facebook.com/pressreader, Twitter @pressdisplay, and youtube.com/user/pressdisplay.
SmartEdition, powered by PressDisplay technology, offers publishers a fully customizable digital edition platform with powerful and proprietary back office reporting and analysis tools (Reading Map, Ad Value Map) that help them optimally manage their content and advertisers. NewspaperDirect provides full hosting, payment acceptance, customer service management, and technical support.
PressDisplay.com, PressReader and SmartEdition are trademarks or registered trademarks of NewspaperDirect Inc. All other trademarks and registered trademarks belong to their respective owners.