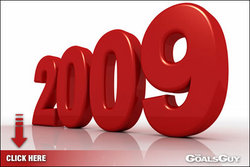 Got Resolutions? is a serious program for serious people, who want to make serious and immediate change in their lives
Milton, MA (PRWEB) December 25, 2008
v5, LLC, a new online marketing company, announced its agreement to distribute Gary Ryan Blair's "Got Resolutions?" program. This unique personal leadership program provides a step-by-step system for setting and achieving your New Year's Resolutions.
The program, which is digitally delivered and contains 30 daily lessons, high-quality video seminars, and audio lectures, is currently being featured on Yahoo! as a sponsored link for the New Year.
"This is a first-class personal coaching system developed by one of the country's top corporate speakers," said Julio Ricardo Varela, CEO of v5, LLC. "The content in this program will greatly benefit those who are committed to making positive progress in their lives."
It is pretty widely established that 4 out of 5 people who make New Year's Resolutions will break them within days. According to Mr. Blair, that trend can change.
"My motivation for creating the 'Got Resolutions?' program was to create the world's largest change initiative and positively impact the lives of people throughout the world," said Blair, who is also known as The Goals Guy and whose coaching clients include the NY Yankees, NY Giants, IBM, NASA, General Electric, Columbia Pictures, DreamWorks and Disney.
Mr. Blair's handbooks, training programs, and coaching services are field-tested and used by more than 80,000 organizations worldwide. In fact, over 60% of the Fortune 500 use his materials to train their staff and maintain a competitive edge.
"Got Resolutions? is a serious program for serious people, who want to make serious and immediate change in their lives," said best-selling author Brian Tracy. "There is no better way to start the year and Gary Ryan Blair will show you how to finally turn your resolutions into reality!"
For more information about the "Got Resolutions?" program and to get your Free Report about the program, visit GotResolutions.com.
###