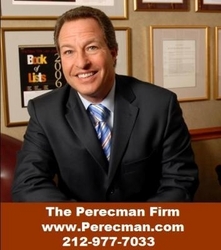 New York, New York (PRWEB) May 27, 2010
Charla Nash, the Connecticut woman who made headlines after a friend's chimpanzee brutally attacked her was released from an Ohio hospital on Friday.
The brutal mauling by the 200-pound chimp left Nash horrifically disfigured, without her nose, lips, hands, and eyesight. After the near-fatal attack, Nash was transferred to the Cleveland Clinic where she underwent several complicated surgeries, including one that was seven hours long.
New York medical malpractice attorneys understand that patients who undergo complex surgical procedures show an increased rate of life-threatening complications. Nash, who lost most of both her hands, had a thumb surgically replaced on her left hand. Doctors had also removed her damaged eyes and grafted a piece of her leg where her nose used to be.
Nash is hoping for a face and hand transplant. However, in January, the Cleveland Clinic told Nash and her family that she is not a candidate for a face and hand transplant due to the complexity of her injuries.
"While many doctors want to perform life-changing miracles such as this one, they know that the most important rule is to do no harm," said Manhattan medical malpractice attorney David Perecman.
Whether in Ohio or New York, medical malpractice attorneys know doctors have to carefully weigh which patients qualify for certain surgeries whether the surgery is routine, like a gastric bypass, or complex. Complex surgery greatly increases the risks of medical malpractice, attorneys understand. In a face transplant surgery, a multidisciplinary team of doctors needs to perform the transplant which involves plastic surgery and neurovascular surgery techniques.
No face transplants have been performed in New York. Medical malpractice attorney can learn of other complicated surgeries that have been performed in the city. Every day there are thousands of surgical procedures performed in hospitals throughout America and in New York. Medical malpractice attorneys should know that all surgeries, whether minor operations such as appendectomies or complex procedures such as organ transplants, have risks.
Surgical mistakes can lead to severe injury or death. Examples of errors include surgical tools left in the patient and surgery performed on the wrong part of the body. New York's medical malpractice attorneys at the Perecman Firm help victims of medical malpractice and their families recover compensation in cases that arise when an individual suffers injury or death as a result of a medical professional's or hospital's negligence.
Medical malpractice was not an issue with Nash.
David Perecman and The Perecman Firm, PLLC:
For the past 30 years, the New York medical malpractice attorneys, personal injury, construction accident, and auto accident attorneys at The Perecman Firm, PLLC have championed all types of cases for victims of auto accidents and their families. David Perecman, founder of the Firm, is a Board Director and the past Secretary and Treasurer of the New York State Trial Lawyers Association (NYSTLA) and a chair of its Labor Law Committee. Mr. Perecman's achievements have brought him recognition as an Honoree in the National Law Journal's Hall of Fame, in New York Magazine's "The Best Lawyers in America" and The New York Times Magazine "New York Super Lawyers, Metro Edition" for the years 2007-2010.
The Firm has recovered millions of dollars for its clients. Among the more
recent victories, Mr. Perecman won a $15 million verdict* for a construction
accident, a $5.35 million dollar verdict** for an automobile accident, and a
$40 million dollar structured settlement for medical malpractice.
*later settled while on appeal for $7.940 million
** later settled for $3.5 million
"Lawyer Advertising"
"Prior results do not guarantee a similar outcome."
###