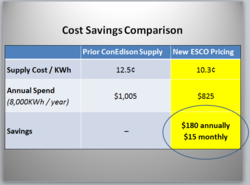 "New Yorkers are becoming increasingly aware of their ability to shop for electricity and we are pleased that many residents have visited ChooseEnergy.com to simplify the search process and secure a cheaper energy supply option."
Jerry Dyess, CEO
New York City, New York (PRWEB) March 14, 2013
Choose Energy, Inc., the leading online energy platform dedicated to helping New York residents minimize, understand and compare their ESCO electricity supply options, is pleased to announce that households and businesses from Syracuse to Manhattan to Buffalo are actively migrating to competitive electricity supply online, and saving nearly $200 in the act.
As the spring months heat up, New York residents served by all of the state's utilities would be wise to consider their electricity supply choice options as many ESCO providers are offering great fixed and variable rates right now. In fact, many providers are offering 12 month contracts nearly 20% below the default rates of ConEd, NYSEG and Central Hudson. And there are also great deals for Orange & Rockland, National Grid, and Rochester Gas & Electric customers.
For example, a recent ChooseEnergy.com customer in the ConEd region was aware of the PowerYourWay campaign in New York and came to the ChooseEnergy.com site to search for a fixed 12 month term contract, with green energy renewable supply. After browsing the various ESCOs, including local favorites North American Power and Just Energy, the customer enrolled for her new plan all online through the ChooseEnergy.com site in under 5 minutes. And, by signing up with an ESCO that is offering a 12 month plan for 10.3¢ per KWh, she is expected to save $180 annually!
According to the US Department of Energy, the average New York state residence consumes nearly 8,000 KWh of electricity each year, meaning that a penny decrease in electricity supply price yields $80 in savings over the course of the year for the resident. The current ConEd rate is just over 12.5 ¢, implying significant savings are available on ChooseEnergy.com.
The ChooseEnergy.com Energy Comparison Platform lets consumers across all New York energy quickly and effectively search through competing offers for the most competitive electricity rate in New York. By simply entering a valid zip code, ChooseEnergy.com will automatically generate up-to-date, comprehensive information regarding the different New York electricity ESCO electricity providers and their lowest rates. Customers enter their information directly on the site, making the process of switching providers faster. In addition, businesses can visit the ChooseEnergy.com site to have energy companies bid on their accounts, letting commercial entities of all sizes minimize their energy costs.
-----
ChooseEnergy.com is not an energy company, but instead a site that allows consumers to shop and compare New York electricity rates from some of the top energy companies in the State. Through extensive research and testing, the company has established itself as a vital tool in giving New York consumers the power to choose their energy provider by offering innovative options through its Energy Comparison Platform