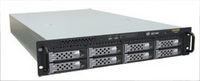 "Aberdeen's AberSAN Z20 product coupled with NexentaStor, is already proving itself to be a better complete solution for a variety of file and block based use cases."
Whittier, CA (PRWEB) October 26, 2010
Server and storage manufacturer Aberdeen LLC, today announced a strategic partnership with Nexenta Systems, the leader in OpenStorage solutions. Under the terms of the agreement, Aberdeen has integrated the NexentaStor software, a ZFS-based enterprise grade storage platform, with the complete line of AberSAN Z-Series unified storage servers. Several Aberdeen engineers have undergone extensive NexentaStor training and have been designated Nexenta Certified Engineers.
Aberdeen will be showcasing the AberSAN Z20, featuring NexentaStor, at the inaugural OpenStorage Summit at the Sheraton in Palo Alto, Calif. October 26-27, 2010. The two day summit will feature leading innovators in the storage industry with in-depth sessions on best practices for evaluating and deploying innovative storage systems including deduplication, ZFS and data center and desktop virtualization. Organizations and individuals interested in attending the summit can register at nexenta-summit2010.eventbrite.com.
NexentaStor is the leading hardware independent storage solution built upon the ZFS file system. NexentaStor runs on industry standard x86 servers and provides NAS and SAN capabilities including support for CIFS, NFS, iSCSI and Fiber Channel storage access. By bundling NexentaStor software on Aberdeen's scalable AberSAN Z-Series unified storage servers, businesses now have access to an enterprise-level, highly-available storage appliance that provides higher functionality and dramatically better cost per terabyte value than legacy storage technologies.
"The goal of Nexenta's partner programs is to build an open community of solution providers that provide superior enterprise class storage based upon NexentaStor," said Evan Powell, CEO of Nexenta. "Aberdeen's AberSAN Z20 product coupled with NexentaStor, is already proving itself to be a better complete solution for a variety of file and block based use cases."
Aberdeen's AberSAN Z-Series scalable storage platform brings the simplicity of network attached storage (NAS) to the SAN environment by utilizing the NexentaStor ZFS file system. This partnership has resulted in the recently announced SAN-VA virtualization plugin, which offers a cost-effective solution for providing highly available shared scalable storage to the VMware environment.
"Aberdeen is proud to announce our new strategic partnership with Nexenta Systems," said Aberdeen's President and CEO, Moshe M. Ovadya. "Some of our customers have already experienced the performance, scalability and ease of use benefits delivered by the AberSAN Z-Series with NexentaStor and have immediately become enthusiastic advocates. I'm confident this Certified Partner Program ensures the continued development of our leading scalable storage servers and will result in further innovations in the near future."
Aberdeen designed the AberSAN to grow as an organization's storage needs multiply, to deliver ease of use, expandability and flexibility. The AberSAN's unparalleled reliability, as evident by its industry leading 5-Year warranty, combined with NexentaStor software, provides organizations with enterprise class scalable storage capabilities with a low total cost of ownership and protection against customer lock-in of legacy solutions. With the development of this partnership, the AberSAN in conjunction with the NexentaStor software delivers enterprise class features at entry level pricing, delivering the best bang for the buck.
Availability and Support:
The AberSAN Z80 is currently available worldwide, and can be configured to meet even the most stringent requirements. Larger capacity AberSAN Z-Series scalable models 16TB AberSAN Z20, 32TB AberSAN Z30 and 48TB AberSAN Z50 are available for immediate shipping. Customized shared storage servers can be configured via the Aberdeen Web site  (http://www.aberdeeninc.com) or by contacting an Aberdeen account executive at (800) 552-6868 or +1 (562) 699-6998 from outside the United States. Aberdeen has a media recognized, industry leading 5-year limited warranty as well as a free 30-day trial assessment program with all of its branded servers.
Product Image - http://www.aberdeeninc.com/abcatg/imcatg/Aberdeen-AberSAN-image.pdf
Company Logo - http://www.aberdeeninc.com/abcatg/imcatg/Aber-Logo.pdf
Media Contacts:
Trenton R. Baker
Marketing Manager
Aberdeen LLC
562-699-6998 x153
trentonb(at)aberdeeninc(dot)com
Jack Tateel
Executive Vice President
Aberdeen LLC
562-699-6998 x157
jackt(at)aberdeeninc(dot)com
About Aberdeen:
Aberdeen LLC is a leading manufacturer of servers and storage. Delivering exceptional performance, unparalleled reliability and outstanding value, Aberdeen's award winning products are deployed every day by IT departments in many of the world's largest organizations. More information about Aberdeen is available at http://www.aberdeeninc.com. Day to day announcements from Aberdeen can be found on Twitter: @aberdeenllc.
About Nexenta Systems:
Founded in 2005 and privately held, Nexenta Systems, Inc., has developed NexentaStor™, the leading OpenStorage enterprise class hardware independent storage solution and sponsors NexentaCore, an open source operating system that combines the high performance and reliability of OpenSolaris with the ease-of-use and breadth of applications of Linux. Both solutions leverage the revolutionary file system ZFS.
Nexenta's products have achieved VMware Ready status with VMware, an EMC company, CitrixReady status with Citrix Systems, Inc., and other certifications. More information about Nexenta Systems, Inc. and free trials of the ZFS-based NexentaStor can be found at http://www.nexenta.com or call (877) 862-7770.
# # #