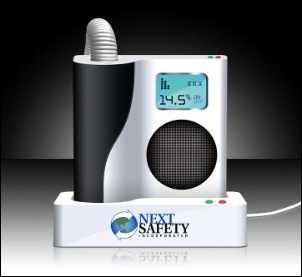 Next Safety, Inc. offers the only solution to the no-smoking ban
WEST JEFFERSON, N.C. (PRWEB) July 3, 2007
Roughly the size of a pack of cigarettes, the device will be used in much the same way as current inhalers. The nicotine is supplied in replaceable cartridges; the cartridges are monitored by electronically stored information to ensure safe dosing. Battery powered circuitry monitors the system to create and deliver nicotine to the lungs at the optimal point during inhalation. The nicotine is delivered through a mouthpiece connected to the system by a flexible hose. THE RESULT: Using this breakthrough technology, Next Safety has delivered nicotine with such high efficiency and efficacy that an inhaled dose equal to less than 30 percent of that inhaled from the average cigarette yields psychoactive results that last 12 to 18 hours in the average person. Receptors in the brain receive nicotine rapidly without the inhalation of the more than 300 combustion byproducts contained in cigarette smoke. The device delivers extremely high arterial levels of nicotine - with effects felt less than ten seconds after inhalation - and provides higher psychoactive effects than cigarettes or any other tobacco product on the market.
Persons using the hand held device still get the nicotine "hit" that they crave, but won't be breaking any new "no-smoking" laws. The company looks forward to working with the National Health Service organisations to support their important leadership in removing the carcinogens from public spaces.
"Next Safety, Inc. offers the only solution to the no-smoking ban," said C. Eric Hunter, CEO and founder of Next Safety, Inc. "This type of technology has never been seen before. It is a tremendous breakthrough that will save millions of lives as well as allow public and private establishments to operate without losing the revenue of a smoking public."
Initially, the unit will be provided to unregulated global markets with availability in other areas following regulatory compliance. Next Safety, Inc. anticipates production volumes will reach more than one million units monthly in the first quarter of 2008. Primary manufacturing capacity will be provided through contract-manufacturing firms and a significant expansion of Next Safety's West Jefferson, North Carolina, USA facility.
In addition to nicotine, Next Safety will soon launch drug delivery tests utilizing its pulmonary drug delivery method and devices that will include antibiotics (tobramycin), anti-emetics (promethazine), bronchodilators (albuterol), and narcotics (morphine).
About Next Safety, Inc.
Next Safety is located in North Carolina, an area already known for leadership in technology and medicine. The company has leveraged this expertise to develop the worlds most advanced respirator technology and to advance the field of pulmonary medicine. Next Safety's bPure8000(TM) line of respirators provide higher protection against airborne viruses and fine particulate air pollution than any other respirator available globally. Next Safety now brings the same innovative approach to the science of pulmonary drug delivery and nicotine replacement.
For more information about Next Safety, Inc. visit http://www.NextSafety.com