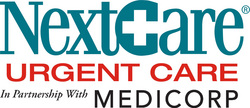 Fredericksburg, VA (PRWEB) March 30, 2009
Urgent care provider NextCare (http://www.nextcare.com) has recently opened two more immediate care clinic locations in Virginia. This brings NextCare's total number of Virginia clinics to three. All three NextCare locations in Virginia are in partnership with MediCorp Health System, a not-for-profit regional health care system well-known and respected in the Fredericksburg area that has offered premier health care facilities and wellness services for more than 100 years. With the addition of two more clinics, NextCare is committed to bringing Virginia residents the quality medical care they have come to expect.
NextCare's state-of-the-art technology features electronic medical records and kiosks, digital radiology, flat screen televisions, friendly staff and a convenient walk-in setup. Offering general medical care, lab work, x-rays, school/sports physicals, vaccinations and more, these new immediate care clinics will provide the same quality medical services that NextCare patients have come to expect from their urgent care provider. Patients can also take advantage of online check-in and the new WAHOO (Wait At Home Or Office) program, which allows patients to wait comfortably wherever they would like until notified by a NextCare representative that their exam room is ready.
Urgent care provider NextCare accepts all major insurance and offers medical discount programs to patients without insurance or who are looking for additional medical savings.
Clinic hours for all three immediate care clinic locations are Monday-Friday 8:00a.m.-8:00p.m. and Saturday-Sunday 8:00a.m.-4:00p.m.
Visit http://www.nextcare.com to view available services or to find the immediate care clinic closest to you.
About NextCare Urgent Care
Urgent care provider NextCare (http://www.nextcare.com/) is one of the leading providers of urgent care and occupational medicine services in the country, known for bringing together service-driven healthcare and innovative medical technology to the delivery of medicine. Currently, 49 urgent care facilities are operating among Arizona, Colorado, Texas, Georgia, North Carolina and Virginia, plus five on-site locations.
About MediCorp Health System
MediCorp Health System is a sophisticated regional health care system. Through Mary Washington Hospital and its other facilities, MediCorp provides integrated, standardized care through the greater Rappahannock region. Mary Washington Hospital is a 442-bed regional hospital providing the latest in advanced cardiac care, neurosurgery, trauma and other tertiary care while continuing to serve the community's acute care needs.
###