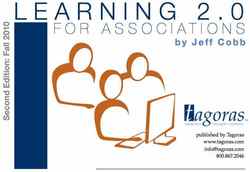 Associations are at a crossroads when it comes to providing meaningful lifelong learning support to their members.
Carrboro, NC (PRWEB) November 9, 2010
Tagoras today released a second edition of its highly popular free report, Learning 2.0 for Associations, a primer on next generation education for trade and professional associations. The author of the original report, Tagoras president and managing director Jeff Cobb, is also the author of the new edition.
"Associations are at a crossroads when it comes to providing meaningful lifelong learning support to their members," said Cobb. "In one direction is the path of traditional educational products that are essentially commodities in an increasingly competitive marketplace. In the other direction is the path of becoming an integrated, 'always on' learning resource and providing knowledge leadership in the association's target sector. To succeed on the second, higher value path association educators must understand how Web 2.0 has impacted learning and how the tools of Learning 2.0 can be leveraged."
The original edition of Learning 2.0 for Associations was downloaded by thousands of readers, but in his work as an advisor to associations nationally, Cobb saw that there remains a need for a solid resource that addresses the basics of blending newer Internet technologies like social media with traditional approaches to education. "It's rapidly becoming easier, cheaper, and faster for nearly anyone to post, share, and access learning content and to engage in learning interactions with other people around the world," said Cobb. "Many associations are still looking for guidance in embracing the new possibilities."
The second edition of the free report covers all of the major content areas included in the first edition: a brief overview of how learning has evolved, specific ways in which new technologies can support learning, and perspectives on how associations can best deal with the change that is afoot for member education. The new edition also features:

A wider range of examples of associations using Learning 2.0 approaches
Expanded discussion of social networks in general, and Twitter specifically
New content on virtual events and personal learning environments
A revamped and expanded online resource center
A new graphical look and feel
The new version of Learning 2.0 for Association may be downloaded at http://www.tagoras.com/learning20. Organizations interested in booking Jeff Cobb to speak on Learning 2.0 or other topics related to education and emerging technologies can find more information at http://www.jeffthomascobb.com/speaking/.
Tagoras provides research and consulting to help organizations maximize engagement, impact, and revenue from their educational offerings. Its clients have included the National Association of Corporate Directors, the International City/County Managers Association, the Medical Group Management Association, the National Institute of Governmental Purchasing, Nurses Improving Care for Healthsystem Elders (NICHE), Booke Seminars (a Division of Aon), Advanced Energy, and CASTLE Worldwide.
Jeff Cobb is an author, speaker, and advisor to organizations internationally on emerging technology trends and their impact on education and business. He is co-author of ShiftEd: A Call to Action for Transforming K-12 Education to be published by Corwin in spring 2011.
# # #