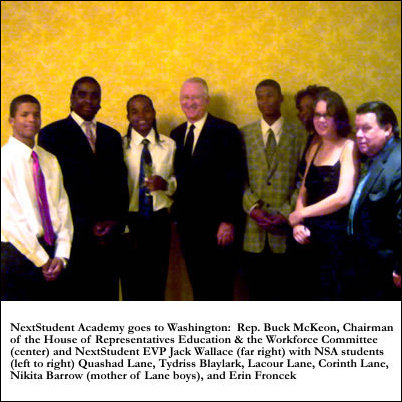 With Music on Their Minds, There's No Time for Crime©
Phoenix, AZ (PRWEB) September 29, 2006
Students of NextStudent Academy for the Arts, a grass-roots
501(c)(3) organization supported by Phoenix-based NextStudent Inc., traveled to Washington, D.C., with company executives to meet with Members of Congress who promote the importance of education in the United States.
NextStudent Academy for the Arts encourages Phoenix youth to stay in school through high school graduation and to continue on to college. Under the leadership of Doc Jones, Executive Director, the Academy provides musical instruction both onsite as well as through its outreach programs at various schools. With its motto, "With Music on Their Minds, There's No Time for Crime©," the Academy currently works with 100 students at 10 school and community sites in Phoenix.
Five Academy students went to Washington along with NextStudent's Chairman and CEO Don Fenstermaker, Executive Vice President Jack Wallace, and Jones. The students included Corinth Christopher Lane, 17, Quashad Quantyre Lane, 15, and Lacour Lavante Lane, 14, who traveled with their mother Nikita Barrow, and Erin Froncek, 17, and Tydriss Blaylark, 19.
The students along with Fenstermaker, Wallace and Jones, met Sept. 20 with Rep. Buck McKeon, R-CA, Chairman of the House of Representatives Education & the Workforce Committee, and the Archbishop of Washington, D.C., the Most Reverend Donald W. Wuerl.
That evening the group attended The Annual Boehner-Kennedy Dinner to benefit the Center City Consortium, a 501(c)(3) organization that aims to stabilize and revitalize 14 inner city Catholic schools in Washington, D.C.'s neediest neighborhoods. The dinner was hosted by House Majority Leader and Mrs. John A. Boehner, R-OH, and Sen. and Mrs. Edward M. Kennedy, D-MA, and featured Master of Ceremonies Chris Wallace of Fox News. The event was held at the Capital Hilton and gave the students a chance to meet with local dignitaries and be a part of an event whose mission is in line with that of the Academy. On the morning of Sept. 21 the group was then hosted on a grand tour of the Capitol by Boehner's staff.
The Academy stands strong in its mission, which reinforces the U.S. Department of Education's initiative of "No Child Left Behind." It hopes to increase the number of scholarships to "at risk" students.
About NextStudent Inc. (http://www.nextstudent.com)
NextStudent, federal lender code 834051, is dedicated to helping students and their families find affordable ways to pay for college. NextStudent offers one-on-one education finance counseling and has a portfolio of highly competitive education finance products and services including a free online scholarship search engine, federally guaranteed parent and student loans, private student loans, both federal and private student loan consolidation programs, and college savings plans.
The NextStudent Scholarship Search Engine, one of the nation's oldest and largest scholarship search engines, is updated daily, available free of charge, completely private – and represents 2.4 million scholarships worth $3.4 billion.
For more information about NextStudent and its student loan programs, please visit the company's Web site at http://www.nextstudent.com/.
Contact:
NextStudent Inc.
John F. (Jack) Wallace III
Executive Vice President
(623) 879-5014
###