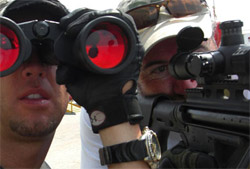 We're looking forward to showcasing our surveillance detection exhibit, new for 2013.
Alexandria, VA (PRWEB) March 08, 2013
Nexus Consulting is proud to announce their participation in the upcoming "CMA Shipping 2013" conference as the exclusive maritime security exhibitor for the entire expo. The Connecticut Maritime Association [CMA]-led conference is North America's premiere event focused on the international shipping trade.
Asked to comment on the conference, Nexus President Kevin Doherty was notably enthusiastic. "We're proud to have been involved in the CMA's events since 2009 and are extremely honored to be the sole safety and security exhibitor this year," Doherty noted. "We're especially looking forward to showcasing our surveillance detection exhibit, which will be new to our booth for 2013."
Photos and details from the CMA Shipping Conference 2012 can be seen here.
In addition to the expo, Nexus will be presenting a one-hour workshop Monday March 18th, 2013 from 5-6pm ET in the seminar area of the expo. The presentation is titled "The 6 'Ds' to a safe and secure maritime operation." The workshop is targeted at ship owners, ship operators, company security officers, special projects, risk management staff, HQSSE and any other safety, security or operations staff. Seating is limited, so please RSVP to info@ncga.us for confirmed seating.
The program will also be available via a live broadcast for those not able to attend in person. To obtain video access, please email info(at)ncga(dot)us requesting video attendance.
For more information on CMA Shipping 2013, please visit the conference home page.
Nexus Consulting is a recognized leader in the highly-dynamic and growing field of maritime security and piracy deterrence. Additionally, Nexus is at the forefront to improve cruise ship safety, having recently testified before the United States Senate.
About Nexus
Nexus Consulting was established in 2005 with a focus on security operations in high-threat theaters. In 2008, Nexus Consulting was the first maritime security firm to advocate for armed security teams embarked on commercial ships. In 2009, in the wake of the Maersk Alabama hijacking, Nexus embarked one of the first armed security teams on commercial vessels to protect US mariners, and has been providing security services to protect merchant mariners ever since.
Nexus works closely with various US and international governing bodies and continues to do so to ensure transparent operations in the increasingly difficult task of protecting mariners. Nexus has been licensed and cleared for operations in South Africa, Djibouti, Sri Lanka, Kenya, Egypt, Malta, and many other locations.
Nexus has always been and continues to be highly cognizant and respectful all international laws and the authority of port-state controls, which from time to time are highly dynamic (for example, with rapid governmental control changes). For more information, please visit ncga.us.
###