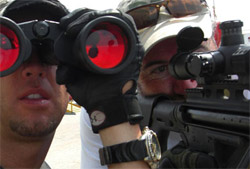 As the number of private maritime firms has grown from a handful just a few years ago to over a hundred today, we felt it was important to help shipping organizations get a head start in their selection process
Alexandria, VA (PRWEB) May 21, 2013
Nexus Consulting is proud to announce the release of updated, industry-leading best practice guidelines for maritime security firm selection. These guidelines are designed to assist shipping corporations in their ability to select and retain the most effective security firm for their company's needs.
"As the number of private maritime firms has grown from a handful just a few years ago to over a hundred today, we felt it was important to help shipping organizations get a head start in their selection process," said Nexus Consulting's President Kevin Doherty in a statement. "With many 'fly-by-night' operations popping up, we want to be sure companies can quickly weed out under-qualified or under-performing security firms that could pose a risk to their operations."
The essential maritime security vetting document can be found here.
In addition to the best practices guidelines, Nexus will be featured on Tuesday May 21st at the NAMEPA 2013 National Maritime Day Seminar and AMVER Awards in a panel discussion on the changing face of piracy. As piracy tactics evolve, Nexus Consulting's Kevin Doherty will be leading the talk on how to keep cargo and crew protected in a dynamic, evolving environment.
"We're in the business of keeping mariners safe, period," said Doherty in a decisive statement to the press. "That means we advocate multiple options to ensure the safe passage of mariners, and all options to return them home if they are held by piracy groups. My own brother is a merchant mariner, and if – heaven forbid – he ever fell into the hands of a pirate, you can be positive I would do anything it took to return him safely home," Doherty continued. "When human life is at stake, the only focus should be on the mariner's safe return, not on movie-quote platitudes espoused by some newer firms."
Nexus Consulting is a recognized leader in the highly-dynamic and growing field of maritime security and piracy deterrence. Additionally, Nexus is at the forefront to improve cruise ship safety, having recently testified before the United States Senate.
About Nexus
Nexus Consulting, an ISO 9001:2008 certified Maritime Security Firm, was established in 2005 with a focus on security operations in high-threat theaters. In 2008, Nexus Consulting was the first maritime security firm to advocate for armed security teams embarked on commercial ships. In 2009, in the wake of the Maersk Alabama hijacking, Nexus embarked one of the first armed security teams on commercial vessels to protect US mariners, and has been providing security services to protect merchant mariners ever since.
Nexus works closely with various US and international governing bodies and continues to do so to ensure transparent operations in the increasingly difficult task of protecting mariners. Nexus has been licensed and cleared for operations in South Africa, Djibouti, Sri Lanka, Kenya, Egypt, Malta, and many other locations.
Nexus has always been and continues to be highly cognizant and respectful all international laws and the authority of port-state controls, which from time to time are highly dynamic (for example, with rapid governmental control changes). For more information, please visit http://ncga.us.
###