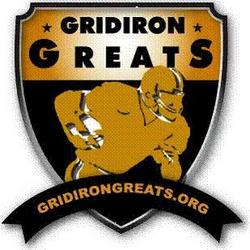 I feel like this is the right thing to do. So many players are suffering, it's only right to help our brothers and provide assistance to those who need it
Phoenix, AZ (PRWEB) December 13, 2007
Today at a press conference, hosted by the Gridiron Greats Assistance Fund, Gale Sayers, Jerry Kramer, Randy White, Seth Joyner and Roy Green announced that one of the largest gatherings of NFL legends ever assembled will come together in Phoenix, AZ during Super Bowl Week for a series of events to benefit retired players in dire need and also to raise awareness about issues facing retired players.
Plans were unveiled for four days of star-studded special events that will take place January 30 to February 2 in Phoenix, AZ and will benefit the Gridiron Greats Assistance Fund (GGAF).
Also announced today was a line-up of over 70 NFL legends who will come together to help their brothers in need. Mike Ditka, Don Shula, Paul Hornung, Gale Sayers, Dick Butkus, Steve Young, Eric Dickerson, "Mean" Joe Green, Tony Dorsett, Franco Harris, Ed "Too Tall" Jones, Jim Kelly, Barry Sanders, Tony Siragusa and Daryl Johnston are among the large group of NFL greats that will participate in and attend the events. A complete list of participants can be viewed at gridirongreats.org. Additional players are being added and the list is updated daily.
The series of Gridiron Greats Championship Week events will kick-off on the evening of Wednesday, January 30 and run through Saturday, February 2. The event schedule includes VIP dinner on Wednesday, January 30, Gridiron Greats "Scramble Bowl" celebrity golf on Thursday, January 31, and a Celebrity Poker event where fans can play with the legends and win a new Harley-Davidson on Friday, February 1. The Gridiron Greats events will wrap up with a party, featuring celebrities from the world of sports and entertainment, on the night of Saturday, February 2.
Tickets go on sale today. Individual ticket packages, golf foursomes, spots in the poker tournament and tickets to the Saturday night party are now on sale. Tickets for individuals, as well as a limited number of corporate sponsorships are available and the public is welcome.
Ticket reservations can be made online at gridirongreats.org. For those interested in buying tickets by phone, call the GGAF office at 1-800-708-1078 or call AMES Entertainment at 1-866-511-2637. For all media inquires, or other issues, please contact the Gridiron Greats office directly or email gridirongreats24 @ aol.com.
"It is gratifying to see one of the largest group of players ever to come together to help their brothers in need," said Gale Sayers, member of the Pro Football Hall Of Fame and Gridiron Greats board member. "Not only will these events be a lot of fun, but the concept of players helping players is truly special. While this is not the player's responsibility, as it is that of the NFLPA and the owners, we as a group must continue to take care of our own until those who are ultimately responsible step up and do the right thing."
The events are being facilitated by a Phoenix-based event company, Ashley Manor Event Services. Last year they produced one of the biggest Super Bowl Parties—"The Millionaire Party," hosted by Jamie Foxx.
George Duerr, owner of AMES, presented a $100,000 donation check to the Gridiron Greats Assistance Fund at today's press event. One hundred percent of the donation is going directly to the GGAF. None of it will be used for expenses related to any of the events.
"I wanted to kick off these events right. Together, members of the local business community and I wanted to make a donation in addition to the money we will be able to donate to the Gridiron Greats Assistance Fund from the events," Duerr stated. "After reading the article in Men's Journal about the dire situations many retired players are in, we contacted the GGAF and then decided to select them as the beneficiary for the Super Bowl Week events we had planned for this year."
"We are very grateful for the $100,000 donation that AMES has made to us today. Their idea to kick this off with a sizable donation to the Gridiron Greats is extremely generous. One hundred percent of their donation is going to go directly to the Gridiron Greats; none of the funds will be used for any expenses related to the events in any way," said Jennifer Smith, Executive Director, Gridiron Greats Assistance Fund. "We are pleased that AMES selected us as the beneficiary of their events."
"These events are the premier events of Super Bowl Week. Not only is this a wonderful opportunity to raise some much needed funds for the many retired players who are in need, but for the fans and those that can attend the events, this is a once in a lifetime opportunity to spend time with the greatest to ever play the game," said Jerry Kramer, founder of the Gridiron Greats and member of the first Super Bowl team.
"I feel like this is the right thing to do. So many players are suffering, it's only right to help our brothers and provide assistance to those who need it," said Former Dallas Cowboy Randy White. I look at the list of over 70 players who will come to Phoenix to participate in these events and know that as retired players, we can make a difference and do what the NFLPA is not, which is reach out with care and compassion to help those that have given so much to this great game."
The Gridiron Greats Assistance Fund an IRS §501(c)(3) charitable and humanitarian organization overseen by Mike Ditka, Gale Sayers, Willie Davis , Harry Carson and many other NFL Legends. The organization was founded by Jerry Kramer. The fund is a service organization that provides financial assistance and the coordination of social services to retired NFL players in dire need. Information about the initiative, player's stories and more is available at gridirongreats.org. The public can also make donations online.
For more information, or to schedule interviews with some of the NFL Legends participating in the events, call Jennifer Smith, Executive Director of Gridiron Greats Assistance Fund at (920) 499-7133 or email gridirongreats24 @ aol.com. Additional information is also available at http://www.gridirongreats.org.
###