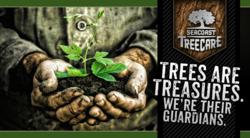 Seacoast Tree Care has made a commitment to excellence in all facets of its business. I applaud their efforts.
Stratham, NH (PRWEB) January 31, 2013
A bold marketing campaign launched early last summer by Seacoast Tree Care was recognized in December with a prestigious 2012 Professional Communications Award from the Tree Care Industry Association (TCIA). Seacoast Tree Care, the premier tree service company serving the Seacoast regions of New Hampshire, northern Massachusetts and southern Maine, engineered a complete rebranding of their company's image.
Seacoast Tree Care's new marketing campaign bested competition from over 100 other submissions for the 2012 Professional Communications Award for overall appearance, content quality and success in achieving the company's marketing and communications goals. The award was given in the flyer/ad/postcard category for their jumbo postcard "Trees Are Treasures". The TCIA judges stated that the work was "Quite distinctive, beautifully designed, well-printed, and appeals effectively to the targeted demographic."
After a vigorous search Seacoast Tree Care enlisted Harbour Light Strategic Marketing of Portsmouth, NH to develop a strategic marketing plan, identifying ideal prospects and creating messaging and tools that resonate with their target demographic. "We needed fresh ideas to communicate the passion we have for tree care and client service," stated Daniel Mello, owner of Seacoast Tree Care. "Harbour Light did the research and developed the strategy that reflects that passion to our clients and prospects. The award from the TCIA is a rewarding acknowledgement that all our hard work was worth it."
"A company like Dan's makes our job easy," stated Ned Savoie, Creative Director at Harbour Light. "They have an incredible level of service and a commitment to their craft that is unrivaled. We just needed to help them articulate that."
"I'll be honest, we're not the tree service company for everyone," stated Mello, typical of his straightforward and direct approach. "Not everyone cares about trees and how they affect our environment. We want to serve clients that understand and appreciate the value that trees bring. They are the earth's longest living organisms and one of our greatest natural resources. They are the lungs of our planet. They need to be cared for and treated with respect."
After the initial research and strategy development, Harbour Light set about implementing the new strategy utilizing varied tools and tactics."Once their story was revealed, the rest was easy," stated Savoie. "We just needed to choose the best vehicles to promote their message." Those marketing vehicles included new branding and logo development, bold artwork and creative copywriting, a new dynamic website with a content management system for ease of use and responsiveness, a blog focused on invasive threats to our trees, email campaigns, direct marketing targeted to consumer and commercial prospects, videos and billboards.
Seacoast Tree Care's reputation for integrity, safety and superior service as well as their history as certified, college-educated arborists led TCIA, a public and professional resource on trees and arboriculture, to select their initiative for the award. "Seacoast Tree Care has made a commitment to excellence in all facets of its business," said TCIA president Mark Garvin, "I applaud their efforts."
About Seacoast Tree Care
Led by a certified arborist and staffed with a team of college educated professionals, Seacoast Tree Care is recognized as the Seacoast's leading full-service tree care provider. Expert prevention and maintenance of all tree and shrub species has created an unsurpassed reputation with discerning homeowners, commercial clients and landscaping professionals. http://www.seacoasttreecare.com
About the Tree Care Industry Association
Founded in 1938, and now with over 2,000 member companies, TCIA has the nation's only accreditation program that helps consumers identify tree care companies that adhere to industry standards for quality and safety; maintain trained, professional staff; and are dedicated to ethical and professional business practices. With access to the latest and best safety standards and training, the typical TCIA member company has 50% fewer accidents than a typical non-member.