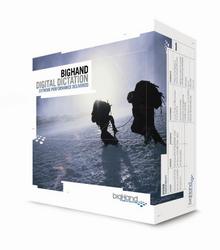 London, UK (PRWEB) March 5, 2008
BigHand today announces the successful completion of a digital dictation workflow project with the Mid Yorkshire Hospitals NHS Trust. The Trust has reported that the solution has driven efficiencies and reduced costs critical to a £13million turnaround strategy.
The implementation has enabled consultants at the Trust to record essential notes digitally for quick and easy transcription and share work between 700 users across four sites that serve a combined local population of 500,000. The solution from BigHand has eliminated the need for traditional analogue tapes that can be easily lost or damaged and need to be physically sent between sites - a time-consuming, unsecure and expensive process.
The workflow system gives secretarial staff visibility into which dictations need to be handled first, the owner of the dictation and length of the recording, enabling them to better manage their workflow and transcribe more productively compared with a traditional tape system. The implementation is part of a wider IT initiative to drive productivity following the merger of three hospitals and in preparation for a new development which is opening in 2010.
Paul Curley, consultant surgeon and clinical director of surgical services at Mid-Yorkshire Hospitals NHS Trust, says, "The Trust produces highly confidential and deadline-critical dictation on a day-to-day basis, so a secure, stable dictation system with the ability to prioritise is essential. We selected BigHand over other vendors for its ease-of-use, alignment with Microsoft technologies and enhanced functionality such as reporting and monitoring. This system will benefit any Trust wishing to improve document management and reduce overheads."
David Fryer, CEO at BigHand, comments, "At a time when the National Programme for IT has come under much scrutiny, we are pleased that BigHand will be part of a successful large deployment designed to improve patient care by driving efficiencies across the Trust. Within just six weeks, the system has already been welcomed by clinicians for its easy-to-use interface and secretarial staff have commended the improved audio quality. Ultimately, the system will help the Trust to reach its goal of delivering timely and accurate patient information."
Paul Curley will be presenting details about the BigHand3 deployment at the Healthcare Computing conference at the Harrogate International Centre on Tuesday 22nd April 2008 at 10:30am.
###