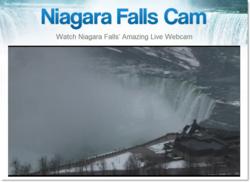 Does this mean that our new friends may be visiting us soon? We sure hope so!
Niagara Falls, Canada (PRWEB) March 04, 2013
The Niagara Falls buzz has gone viral as almost 1,000,000 Russian socialites jumped on the addme.ru Top Ten Most Interesting Webcams in the World list this February. Not only did they enjoy watching the glorious Horseshoe Falls themselves, they shared it with their friends on VK.com at unprecedented levels, driving a 1000 percent increase in traffic to the Cliftonhill.com Niagara Falls Webcam.
You'll be forgiven for not knowing anything about either of these sites, but to Russians they are the equivalent of Reddit and Facebook, and Niagara Falls has made an incredible splash amongst our friends in the East. Addme.ru boasts over 300,000 fans on VK.com and the massive social networking site showcased the Clifton Hill Niagara Falls Webcam page to over 3,000,000 fans of their Science and Facts sections!
Visitors loved the fact that they could not only see the beauty of the Falls, but also experience the thundering sound of Niagara Falls from "the old continent". After taking in the sights and sounds they flocked in droves to find out more about our beautiful city and to check us out on Facebook.
Joel Noden, Director of Marketing at CliftonHill.com, had this to say about the massive interest in the webcam: "In addition to viewing the spectacular Niagara Falls Web Cam, our Russian friends checked out other "Fun by the Falls" pages, with a close focus on our Niagara Falls attractions discount pages. They made a beeline for our many discounted attractions including 50 percent off a Clifton Hill Fun Pass, 47 percent off a Niagara Falls Helicopter Tour, and many more. Another popular destination was our "build your own Niagara Falls Hotels package" page. Does this mean that our new friends may be visiting us soon? We sure hope so!"
About Clifton Hill
Located on the Canadian side of Niagara Falls, Clifton Hill offers an exciting array of attractions, resort hotels, restaurants, shops and nightclubs, providing fun experiences for everyone. Where else can you ride a giant wheel 175 feet above Niagara Falls for the most amazing views, putt with life size dinosaurs in a 36-hole mini-golf adventure, be challenged by over 300 interactive games at Canada's largest entertainment complex, along with many other unique adventures? It's all right here, on Clifton Hill!