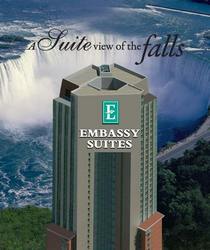 International Grand Champion of Magic
Niagara Falls, ON (PRWEB) March 6, 2008
The finest hotel in Niagara Falls, the Embassy Suites Niagara Falls, is pleased to announce the offering a fantastic and affordable Spring Break package. Spring Break is the perfect opportunity to gather the family and create a truly memorable vacation, and the Embassy Suites Niagara Falls has a host of activities and amenities available to meet this goal.
The spring break package includes a luxurious two-room suite overlooking majestic Niagara Falls, a complimentary cooked-to-order breakfast each morning for the entire family, evening manager's reception with complimentary drinks, and numerous vouchers and discount passes to thrill both you and your family.
This year the package will include admission to many of Niagara's hottest attractions, including Screamers House of Horrors 1 and 2, the Las Vegas Magic Show featuring "International Grand Champion of Magic" Greg Frewin, and the Waves Indoor Waterpark. These attractions are entertainment for both young and old, and will dazzle the whole family.
Beyond these attractions, the Embassy Suites Fallsview's Family Fun Getaway package naturally includes a shuttle pass to both Niagara Falls, and many of Niagara's other attractions including the famous Clifton Hill, and the Skylon Tower and revolving restaurant. Embassy Suites Niagara Falls Fallsview is the perfect hotel for your memorable vacation, let us help you create family memories that will last a lifetime.
###