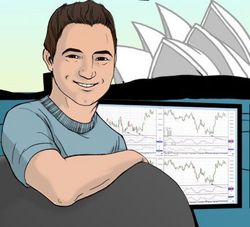 "I am thrilled to be working with such industry heavy weights as FX Street and Seeking Alpha. They are both excellent resources for traders to learn from and I look forward to providing my review on the forex markets each day to both of these websites."
(PRWEB) September 22, 2010
Learn to trade the market, brain child of professional forex trader Nial Fuller, has recently been invited to provide a daily technical commentary on the major currency pairs for both FX Street and Seeking Alpha. Nial's expert opinions and technical chart commentary review will be updated daily just after the New York forex session closes. His contributions will include technical chart analysis on the trading day's most significant price movements combined with periodic commentary on important fundamental economic news.
FX Street and Seeking Alpha are both sources of objective and unbiased trading information on the financial markets for beginning and experienced traders alike. This makes them the perfect launch pad to present Nial Fuller's trading style and market opinions to the trading community.
Nial's daily forex market reviews will mainly display examples of his proprietary price action trading concepts, which will allow FX traders to get a glimpse of how he trades. Price action trading is the process of interpreting the dynamics of a raw price chart to forecast possible upcoming market movement. Nial's take on price action and his ability to analyze and interpret the dynamics of a raw price chart make this simplistic yet useful forex market perspective a perfect addition to the already talented pool of forex market commentary blogs` on both FX Street and Seeking Alpha.
Nial Fuller commented on the recent request by both websites for his expert price action perspective on the forex market, he said, "I am thrilled to be working with such industry heavy weights as FX Street and Seeking Alpha. They are both excellent resources for traders to learn from and I look forward to providing my view on the forex markets each day to both of these websites."
The commentary at learn to trade the market has typically consisted of Nial's daily price chart analysis and commentary combined with relevant and useful links to some of his website's other educational resources. Significant forex economic news is also discussed periodically which naturally includes Nial's perspective on how daily forex price action meshes with fundamental economic data.
Some of the key features of Nial Fuller's Daily Forex Trading Commentary include:

A professional trader's perspective on the day's most important forex price movement from a price action analysis point of view.
Price action trade setup commentary that gives traders ideas for possible entries as well as insight into how to enter trending markets.
Links to relevant and useful content around the website in each commentary.
A Review of price movements in all the major forex currency pairs every day.
The Blog Updates will be posted at the following locations every afternoon ( (EST) New York Time ).
Nial Fuller @ FX Street (http://www.fxstreet.com/technical/forex-strategy/forex-trade-setups-commentary)
Nial Fuller @ Seeking Alpha (http://seekingalpha.com/user/648753/instablog)
Learn to trade the market provides up to date commentary for traders of every level, the recent collaboration with both FX Street and Seeking Alpha will provide many more traders access to Nial Fuller's unique take on the daily happenings of the major forex currency pairs and insight into his trading style.
About Learn to Trade the Market:
Learn to trade the market is one of the most respected educational resources for forex price action strategies in the world, providing an advanced forex trading course, forex forum, trading commentary and coaching support. Professional forex trader and trading mentor Nial Fuller started his website after achieving consistent success in the forex market. To learn more about Nial Fuller and Learn To Trade The Market click here: http://www.LearnToTradeTheMarket.com
###