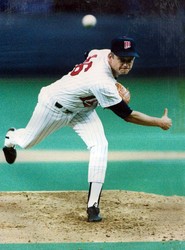 Knuckle Ball—A Pitch for Life
Houston, TX (Vocus) November 4, 2010
HCA Gulf Coast Division and The Joe Niekro Foundation present the second annual "Knuckle Ball—A Pitch for Life" on Saturday, November 13th at Minute Maid Park. The event benefits The Joe Niekro Foundation funding education about brain aneurysms, aneurysm research and support for aneurysm patients and their families.
The foundation was established by Natalie Niekro in memory of her father, legendary knuckle ball pitcher Joe Niekro, who died from a cerebral brain aneurysm on October 27, 2006.
"My dad was always giving to others," said Natalie Niekro. "This foundation carries on his legacy, not only as a great athlete, but as a great philanthropist. I am excited to hear from people who have visited our website and have been screened because of what they've learned. I know my dad would be so happy to know that we are part of this kind of progress."
A brain aneurysm is a weak or thin spot on a blood vessel in the brain that balloons and fills with blood. The bulging aneurysm can put pressure on a nerve, and in some cases, leak or rupture, spilling blood into the surrounding tissue. It is estimated that six million people in the United States have a brain aneurysm, and that 1 in 15 people will develop a brain aneurysm sometime in their life.
"The Joe Niekro Foundation is a great partner for us in our mission to deliver quality and innovative care." said Maura Walsh, CEO, HCA Gulf Coast Division. "Our teams of Neurointensivists, Neuroradiologists, and Neurosurgeons are providing the multiple levels of care needed to detect, prevent and treat brain aneurysms. By partnering with the foundation we are able to raise the level of community awareness about prevention and help fund research, education and support where it is needed most."
Although most brain aneurysms do not cause any symptoms, symptoms of a ruptured brain aneurysm often come on suddenly and include:

Severe Headache
Neck Pain
Nausea and Vomiting
Sensitivity to Light
Blurred or Double Vision
Drooping Eyelids
Fainting or Loss of Consciousness
Seizures
Treatment at a hospital emergency room should be sought immediately if an aneurysm is suspected. Aneurysms are most prevalent in people ages 35-60 but can occur in children as well.
The exact cause of brain aneurysm is not known. Genetics and lifestyle play a role, but more research is needed to determine appropriate screening and treatment methods. Most people who suffer aneurysms are like Joe Niekro: They are healthy, have no symptoms of pain or indications that an aneurysm is developing.
Natalie Niekro is enlisting the help of many of her father's friends, colleagues, teammates and family to raise awareness for brain aneurysm research. Guests at this year's Knuckle Ball gala include: Ozzie Smith, Dan Pastorini, Jimmy Wynn, Enos Cabell, and Lance Niekro just to name a few. Entertainment will be provided by country music star Chuck Wicks.
This year's Master of Ceremonies will be Joe's brother, MLB Hall of Famer, Phil Niekro. The Niekro brothers combined for 539 wins over their respective careers making them the most successful brother combination in Major League history. They also figure into one of baseball's most interesting statistics—in his two-decade career, Joe Niekro hit only one home run—off of his brother.
For more information about The Joe Niekro Foundation and ticket information for the Knuckle Ball Gala, please visit http://www.joeniekrofoundation.org or http://www.HCAhouston.com
V.I.P Party Media: Working Press Only are invited to interview athletes and dignitaries at the pre-event V.I.P. party being held at:
The Inn at the Ball Park
1520 Texas Avenue, Houston, Texas 77002
5:00 p.m., Saturday, November 13th 2010
Working press wishing to work the event should call Kris Muller at 713-852-1563. One reporter and one photographer from each media outlet will be placed on a list. Media credentials and picture I.D. that match the name given for the list must be presented upon check-in at the event. Check-in for media with reservations begins at 5:00 p.m. in the lobby of the hotel.
Media are welcome to purchase tickets for the Knuckle Ball Event, but we are not able to offer interview opportunities or photography at the Knuckle Ball Event. Any interviews or photography must be done at the pre-event V.I.P. Party. Thank you for your cooperation and we look forward to a wonderful evening.
Athletes Available for Pre-Event Interviews: Please call for information regarding interviews with athletes, Natalie Niekro, physicians and patients that can be arranged prior to the event. The following athletes are available for phone interviews during the weeks prior to the event. Should you wish to contact any of these athletes for phone interviews, please contact Kris Muller at 713-852-1563 for the athlete's appropriate contact information:
Phil Niekro
Lance Niekro
Lee Smith
Deacon Jones
Dave Bergman
Enos Cabell (lost his wife to an aneurysm)
Larry Dierker
Jimmy Wynn
Art Howe
Carlos Alfonso
Gregg Bingham (Gregg is an aneurysm survivor)
Ozzie Smith
Media Contacts: Kris Muller • 713-852-1563 • Kris.Muller(at)HCAhealthcare(dot)com
Debra Burbridge •713-852-1506 • Debra.Burbridge(at)HCAhealthcar(dot)com
# # #