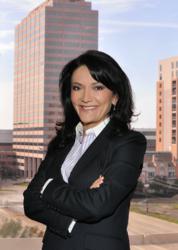 New York, NY (PRWEB) March 20, 2013
Dario A. Cortes, PhD, President of Berkeley College, is pleased to announce that Nina Vaca, Chairman and CEO of Pinnacle Technical Resources, Inc., will address graduates at the Berkeley College 2013 Commencement Ceremony. Ms. Vaca also will receive an honorary degree at the ceremony that will take place on Friday, April 26, 2013, at the IZOD Center, 50 Route 120 in East Rutherford, NJ.
Approximately 2,100 students from Berkeley College locations in New Jersey and New York, and Berkeley College Online will receive Bachelor's or Associate's degrees this year.
"As Berkeley College celebrates the achievements of the Class of 2013, we are honored to have as our commencement speaker, Nina Vaca, Chairman and CEO of Pinnacle Technical Resources. By sharing her professional and personal experience as a successful entrepreneur and businesswoman, Ms. Vaca will inspire our students to achieve their dreams, " said Dr. Cortes.
Under Ms. Vaca's leadership, Pinnacle, a Dallas-based information and technology services provider to Fortune 500 companies, has become the fifth fastest growing firm in a $20 billion dollar industry, and now has revenues of $200 million which includes 4,000 consultants across the United States and Canada.
As one of five children born to Ecuadorian immigrants, and the first in her family to graduate from college, Ms. Vaca believed in her dreams to build a better life through entrepreneurship and civic leadership. Through her hard work and dedication, Pinnacle is now one of the most widely recognized and honored companies nationwide, garnering over 38 national and local awards in the past seven years including consecutive top rankings from Inc. 500
In 2005, Ms. Vaca appeared in "Fast Company Magazine" as one of the Top 25 Women Business Builders in the country. She has been featured in numerous publications both domestically and internationally that include "Vanidades," "Ali," "Entrepreneur," "Kiplinger," "Forbes," "Fast Company," "Hispanic," "KERA CEO Review" and "Latino Leaders."
Ms. Vaca's story opens the Entrepreneur chapter of "Understanding Business," a McGraw Hill textbook used for teaching entrepreneurship at universities today. She is a recipient of the coveted Ernst & Young Entrepreneur of the Year award for Technology and Communications for the Southwest Region. In 2010, she was named one of the 100 most influential Hispanics in America by "Latino Leaders Magazine."
Ms. Vaca is a graduate of Texas State University with a B.A. in Speech Communications and Business Administration where she was honored as the youngest Distinguished Alumna in university history. She also holds a Doctor of Laws "Honoris Causa" from Northwood University. She is a graduate of the Harvard Business School – Corporate Governance Executive Program.
Ms. Vaca is a member of the Board of Directors for several corporations including Comerica, Inc. and Kohl's. In addition, she is Chairman Emeritus of the United States Hispanic Chamber of Commerce and one of the founding board members of Startup America Partnership.
A leader in business education for more than 80 years, Berkeley College is accredited by the Middle States Commission on Higher Education and enrolls more than 7,700 students — including over 800 international students — in its Baccalaureate and Associate degree programs. The College has three New York locations — Midtown Manhattan, Brooklyn and White Plains.In New Jersey there are four locations— Woodland Park, Paramus, Woodbridge and Newark. Berkeley College Online also offers full degree programs. Programs are offered in more than 20 career fields.The website address is http://www.BerkeleyCollege.edu.