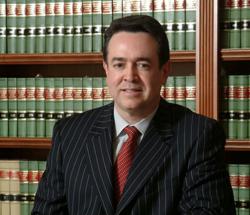 At a time when the overall number of car accident fatalities is going down, the number of pedestrian deaths should not be increasing.
Newark, NJ (PRWEB) March 07, 2013
With new reports of an increase in pedestrian traffic accident deaths in New Jersey last year, car accident lawyer Joseph A. Ginarte today called on both drivers and authorities to take measures to reverse the trend.
"Drivers, pedestrians and authorities must all work together to prevent accidents that kill and injure many," said Ginarte, founder of Ginarte O'Dwyer Gonzalez Gallardo & Winograd, a law firm that focuses on car accidents. "Everyone, no matter what mode of transportation they are using, must follow the law, and police must enforce those laws."
He was referring to a preliminary report from the New Jersey State Police that indicated 165 pedestrians died in car accidents in 2012, up from 143 in 2011, despite the overall number of fatal crashes in the state going down by 5.6 percent. In 2012, pedestrians accounted for 28 percent of fatal crash victims in New Jersey, up from 23 percent in 2011.
In the country as a whole, a total of 4,432 pedestrians were killed by cars in 2011, accounting for 14 percent of all traffic fatalities, according to the National Highway Traffic Safety Administration (NHTSA). A pedestrian is killed every two hours and injured every eight minutes in a car crash somewhere in the United States.
"These statistics are very alarming and totally unacceptable," Ginarte said. "Usually, pedestrians are just going about their daily business, like walking, jogging, crossing a street or carrying shopping bags, when these accidents occur. We must find a way to keep pedestrians safe through education, awareness and simply paying better attention to our surroundings. We also need to find out why the number of pedestrian car accident victims in New Jersey is going up and is so much higher than the national average."
Accidents can also result in very serious injuries for pedestrians. According to NHTSA, in 2011, 70,000 pedestrians suffered injuries such as broken bones, traumatic brain injuries, back and spinal cord injuries, paralysis and internal injuries.
"The David-versus-Goliath nature of pedestrian accidents makes them even more dangerous and the injuries even more severe," Ginarte said. "Pedestrians are no match for large vehicles driving down the highway."
Recent data on overall car accidents do provide some good news. In 2012, there were 556 fatal crashes in New Jersey, down from 586 in 2011, according to the New Jersey State Police. The overall number of fatalities in the state also decreased, with 592 in 2012 and 627 in 2011.
"At a time when the overall number of car accident fatalities is going down, the number of pedestrian deaths should not be increasing," Ginarte said. "We support efforts by government, police and the public to continue the overall downward trend in traffic fatalities. But we also need to find out why pedestrian accident fatalities are not following this trend in New Jersey and take steps to reduce the number of these accidents."
Ginarte urged anyone who has been injured or lost a loved one in a New Jersey car crash to get help from a qualified lawyer like those at Ginarte O'Dwyer Gonzalez Gallardo & Winograd.
"We have the experience to go up against negligent drivers and their insurance companies and get you the compensation you deserve," he said.
About Ginarte O'Dwyer Gonzalez Gallardo & Winograd, LLP
For more than 30 years, Ginarte O'Dwyer Gonzalez Gallardo & Winograd, LLP, has served the residents of the New Jersey and New York metro area. The firm assists clients with legal claims arising from car accidents, truck accidents, motorcycle accidents, construction accidents, medical malpractice and other personal injury cases. The firm also represents clients in employment discrimination, Social Security Disability and workers' compensation matters. The Ginarte law firm features offices located in New York City, Queens, Newark, Elizabeth, Clifton, Union City and Perth Amboy. The firm's Newark office is located at 400 Market Street Newark, NJ 07105 (local phone (973) 854-8400). The firm can assist Spanish-speaking and Portuguese-speaking clients. To learn more, call 1-888-GINARTE or use the firm's online contact form.