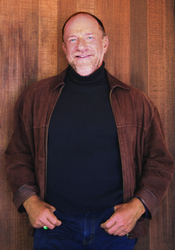 as an ancient, sacred pilgrimage we must all face alone even as we are all alone together.
New York, NY (PRWEB) March 3, 2009
One of North America's most respected and beloved poet-philosophers - a man who has been quoted on 30 million Starbucks Coffee Cups and nominated for a Pulitzer Prize - Noah benShea, now brings his sage wisdom and wit to national public television. For over thirty years, Noah's unique perspectives and observations of life have impacted millions through his countless books (including the international best-selling Jacob the Baker series), lectures, newspaper columns, and maxims. Now his profound and heartwarming insights are featured in a new, one-hour PBS special entitled THE JOURNEY TO GREATNESS AND HOW TO GET THERE debuting nationally on Public Television in March 2009.
"The Journey to Greatness is about the quietly, heroic journey to make your life great," states benShea. "There is no greater challenge than daring to be who we are and no greater opportunity in any of our lives than daring to be as great as we might yet become!"
In his new Public Television special Noah BenShea reveals the Journey to Greatness, in front of a live studio audience, "as an ancient, sacred pilgrimage we must all face alone even as we are all alone together." In Noah benShea's words: "Greatness is about who we are and not what we have, and in tough times it is both a profound and reassuring promise that things don't have to be good for us to be great."
The Journey to Greatness encapsulates a lifetime of work that has included over twenty internationally distributed books. In this intimate and engaging presentation benShea offers a unique formula for self-discovery through an extremely practical and common-sense approach to life's everyday issues and concerns. Combining deep wisdom, aphorisms, humor and stories designed to "Awaken the Spirit" he weaves a compelling 3 step path, via doorways of honesty love and faith, ultimately revealing the true key to greatness which lies within having an open mind and a warm heart.
Viewers of the pledge special will have the opportunity to support their local public television station and in return receive one or more of the following pledge premium gifts: The Journey to Greatness companion book published by Corwin (a SAGE company), the DVD of the pledge special, and a 4-CD audio version of the book and an audio CD of the show. Check with your local public television station for a current broadcast schedule.
The Journey to Greatness with Noah benShea is produced by Number Nine Media, LLC, in association with Jersey Wooly Productions, Inc. and KQED/San Francisco. Executive Producer: Bruce Marcus. Supervising Producer: Joe Locarro. Director: Kurt Mendelsohn. Distributor: American Public Television (APT).
About Noah benShea
Noah benShea is one of North America's most respected and most popular poet-philosophers. He is also an international best-selling author of 22 books translated into 18 languages - including the beloved Jacob the Baker Series - a scholar, long range thinker, senior executive advisor and keynote lecturer who was, by the age of 23, an Assistant Dean of Students at UCLA and, by 30, a consulting fellow to a number of esteemed think tanks. As a public speaker for 35 years he has spoken at literally hundreds of the top universities, as well as given countless Keynote Addresses including to the Library of Congress. In 1999 Mr. benShea was nominated for the Grawemeyer Award for Ideas That Improve the World. From 1997 - 2002, his weekly essays were enjoyed by several million readers via the New York Times Newspaper Regional Network. And, in 1997 his weekly essays were nominated for a Pulitzer Prize. Noah benShea's inspirational thoughts have been licensed by some of America's top companies including American Greetings, Starbucks, Costco, C&H Sugar, and Lucky Brand Jeans. Honoring his father's heroic struggle, Mr. benShea has in 2005 accepted the role of National Laureate for the ALS Association. Visit http://www.NoahbenShea.com
###