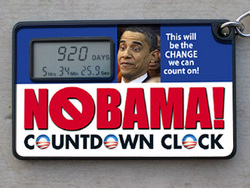 Bellevue, WA (PRWEB) July 14, 2010
"We're mad as hell and not going to take it anymore.", said Patrick Phipps CEO of Rockme Novelties, "President Obama has failed his promises, he has failed his responsibilities, he has jeopardized our future! It's time we start counting down this disastrous presidency!"
To help the growing number of non-supporters have some measurable 'hope', Rockme Novelties is pleased to announce the release of our newest product, the NObama Countdown Clock.
Each NObama Countdown Clock is a beautifully designed clock/key chain, and is approximately the size of a credit card, allowing owners to take them wherever they go to keep track of Obama's days left in office. The LCD screen continuously displays the time remaining in days, hours, minutes and seconds, so owners 'make no mistake' counting down to the end.
NObama Countdown Clock collectibles are available for purchase online at NObamacountdownclock.com, each for only $9.95.
Rockme Novelties creates innovative political and pop culture consumer products that are relevant to today's world. Rockme Novelties is headquartered in Bellevue, Washington.
Media Contact
Diane Lockhart
(425) 468-6100
pr (at) prezbarock (dot) com
# # #